Apple-Funded Hyperloop Could Bring Elon Musk's Transit System to Cupertino
The mayor of Cupertino has hinted at some big players in the space.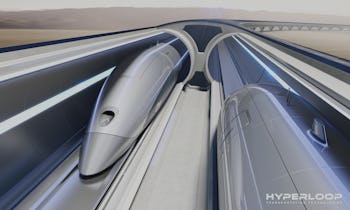 Hyperloop Transportation Technologies
Is Apple about to put its money into a hyperloop project? The mayor of the firm's hometown of Cupertino has suggested that Silicon Valley firms like Apple could "heavily subsidize" construction of the 700 mph vacuum-sealed pod transit system, first proposed by Tesla CEO Elon Musk in a 2013 white paper.
Mayor Darcy Paul told Silicon Valley Business Journal that the council had shelved plans to put a tax proposal on November's ballot paper to fund new transit projects in favor of a potential hyperloop line. If approved, the tax proposal would have seen Apple's city tax bill jump from $17,000 to $9.4 million, around 92 percent of the total $10.2 million revenue from the proposed initiative. Paul, who said he had met with Hyperloop Transportation Technologies, said that "there could be very significant amounts of private sector funds willing just to invest in an early line so that, you know, that particular sector or company can use it as a bit of a showcase."
See more: Delft University Reveals Plans to Break Hyperloop Speed Record at SpaceX Competition
The council postponed the measure after Paul told city hall attendees that a hyperloop, which would attract global attention, could be an opportunity "hundreds of millions of dollars." Councilmember Barry Chang, who met with the CEO of a hyperloop company earlier in the year, claimed the council was "talking to hyperloop [sic] to have a line, hopefully, along Stevens Creek from Diridon Station to DeAnza College."
Apple has yet to publicly express interest in the idea, but it has been exploring future transportation options. Its "Project Titan" autonomous car project has been quietly ticking away, with CEO Tim Cook describing autonomy as "the mother of all A.I. projects in August 2017. An Apple-owned Lexus sports utility vehicle was captured in the area with 12 lidar sensors whizzing away in October 2017, and the following month Apple released its first official self-driving car research.
Whether Apple would want to put some of its over $200 billion cash into hyperloop is another question. While third parties have explored Musk's idea since he released the paper in 2013, the Tesla CEO recently changed courses and announced his venture The Boring Company would also start construction on the futuristic system. Alongside HTT and Richard Branson-backed Virgin Hyperloop One, Musk has also hosted university pod design contests at the SpaceX campus. The hyperloop sector is already a rather crowded space.
Inverse has contacted Apple for further comment.