'Pokémon GO' Theory Connects Spinda Variants to Gen 4 Release Date
It's a bit of a stretch, but we're ready to believe.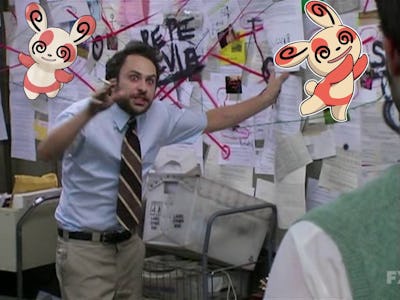 FX/The Pokémon Company
Earlier this week, Pokémon GO added Spinda, a Gen 3 "spot Panda" as part of its August Field Research challenges. However, the addition of this rare new Pokémon has sparked an interesting new theory about Pokémon GO developer Niantic's plans to bring a whole new generation of Pokémon to the game with its rumored Gen 4 update.
You see, in the main Pokémon series, each Spinda features a different dot pattern. No two are alike (kind of like snowflakes), with over 4 billion different variants out there. Pokémon GO can't actually generate all those different Spinda versions, so instead we're getting just eight. The only catch? So far, players are seeing just one Spinda variant in the game.
Specifically, it looks like the only in-game Spinda so far is number eight, which features a dot pattern that almost makes it look like the Pokémon is sporting a goatee. Here's what that looks like in Pokémon GO:
Shortly after Spinda's release, players started speculating that Niantic could use those different variants to count down to a big Gen 4 update, which would add over 100 new Pokémon to the game. Niantic has already teased new Gen 4 Pokémon, but we still don't have a set release date or even official confirmation.
Of course, that hasn't stopped fans on Reddit from speculating wildly. One theory was that Niantic would add a new Spinda variant each day for eight days, essentially counting down to the Gen 4 update. However, it's already been 24 hours and we still don't have a new Spinda, so that's clearly not the case.
It's still possible that Niantic could roll out new Spinda's at a rate of one per week, in which case the next one should arrive in Pokémon GO at around 4 p.m. Eastern on Wednesday, August 1. So we might see another variant next week on August 8 at that same time.
In that case, Pokémon GO players will have plenty of time to catch all eight Spinda variants before Niantic's rumored countdown comes to an end. Catching all eight might even net you some sort of reward when Gen 4 finally arrives.
Of course, this is all speculation for now. We'll have to wait until next week (or longer) to find out what Pokémon GO's plans for Spinda and Gen 4 really are.