Did the 'Fortnite' Crossbow Get Reintroduced in the Version 5.10 Update?
A beloved weapon could return to the game in a limited capacity.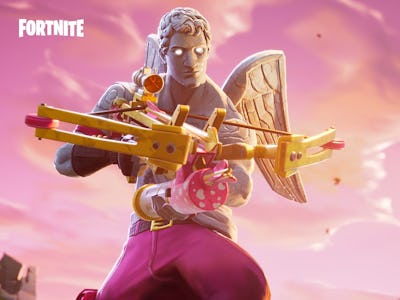 Epic Games
The Crossbow in Fortnite: Battle Royale hasn't been around since Season 4 started back in May, but could the weapon make a return to the game sometime soon?
GameRevolution reports that the original 5.10 patch notes from Tuesday's newest Season 5 update included a note that the Crossbow had been reintroduced to Fortnite exclusively for the Playground LTM. But there was no such note in the final version of the patch notes. So what gives?
Shortly after the update rolled out, developer Epic Games tweeted out the following announcement that explains some of the planned content didn't make it into the game yet. It's at least possible that this unreleased content includes the Crossbow.
The Crossbow was originally introduced to Fortnite in February with the version 2.4.2 update to help celebrate Valentine's Day along with some holiday skins:
I never enjoyed the weapon all that much. It had unlimited ammo but a longer reload time, so even though it functioned as a silent sniper rifle of a sort, it wasn't all that fun. Still, it was overpowered enough for elite players that it got pulled from the game.
There was even a Season 3 Challenge requiring players to get eliminations with the weapons, which proved one of the most difficult Challenges to complete that season.
Even though the Crossbow is still MIA in Fortnite, at least the Playground LTM is back, along with the Fly Explosives LTM in which players can only use Jetpacks and explosive weapons (including the newly reintroduced Guided Missile). It's also totally possible that we'll see the Crossbow sneakily reintroduced at the weekly reset on Thursday morning at 4 a.m. Eastern.
Follow Inverse on Twitch and YouTube to watch Squad Up: The Fortnite Talk Show and to stay up to date with all of their shenanigans.