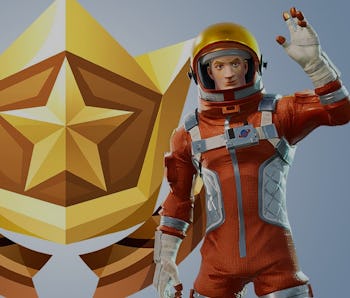 Gaming
8 'Fortnite' Season 3 Challenges You Probably Haven't Finished Yet
Twitter
Season 3 of Fortnite: Battle Royale will end on April 30. Not only could this mean the destruction of a certain part of the islands thanks to meteors, but also it means the end of the season's Weekly Challenges.
In order to complete the Weekly Challenges, players need to first purchase a Premium Battle Pass, which costs 1,000 V-Bucks or $10. Finishing tasks will earn a player Battle Points that will increase their Battle Pass and unlock some of the more desirable in-game cosmetics. Some of the challenges range from visiting a certain spot on the map to damaging opponents with specific weapons.
Before Season 3 ends, here are some of the tougher challenges Fortnite players should give a shot.
Week 1 Challenge: Sniper Rifle Eliminations
Sniper rifles are powerful and popular in Fortnite. They're also not easy to find. Dusty Depot has been known to be a spot to get sniper rifles, but good luck battling all the other players who hang around there.
Week 2 Challenge: Dance in Different Forbidden Locations
The trick to this challenge is not the dancing, but rather the forbidden locations. You won't be able to find them on the map, but luckily, a Reddit user on the Fortnite Battle Royale subreddit marked the locations of where to dance the night away.
Week 3 Challenge: Crossbow Eliminations
It takes just a couple of shots to takedown opponents with the Crossbow. The problem is that it's slow to fire. Some consider it a slower semi-automatic sniper rifle. Find one and let loose in hopes of getting a kill.
Week 4 Challenge: Trap Eliminations
Traps are a little harder to find in the game, and it's even harder to get opponents in a trap. To get this challenge, try to take down another players and when they're crawling on the ground, quickly build a small fort around the player then set off the trap.
Week 5 Challenge: Deal Damage with a Pickaxe
In a game where players can use long-range weapons and build their own forts, getting in close to do damage is tricky. Try your best to complete this task but dropping in a crowded area and start attacking before other players can get their weapons. Or better yet, find a player that went AFK at the start of the match.
Week 6 Challenge: Search the Hidden Gnome in Different Named Locations
Gnomes are scattered across the island and they give an audio cue when a player gets close to them. Instead of wandering around, use a marked map to find the gnomes.
Week 8 Challenge: Dance on Different Dance Floors
There are three dance floors located on the island. One is in the Flush Factory, another is in the RV Park, and the last one is in the Haunted House. Search around those locations for a neon dance floor and get funky.
Week 9 Challenge: Visit Different Taco Shops in a Single Match
Most challenges let players complete them over multiple challenges. This particular challenge requires it to be done in one match. Luckily, there is an optimum route to follow in order to complete it.
With Fortnite Battle Royale Season 3 coming to an end, Epic Games started its Season 4 tease and it could be "super."