'Fortnite' Taco Shops: Best Strategy for Completing the Challenge
There's one clear path you should take.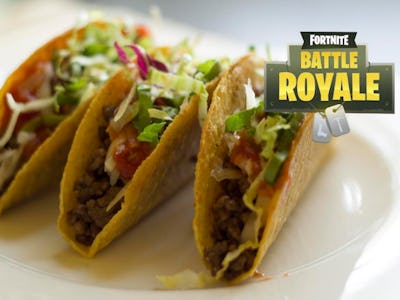 Epic Games / Luca Nebuloni
Week 9 is upon us for the Fortnite: Battle Royale Battle Pass, and with it comes seven new Challenges for players to earn their Stars. With Season 3 wrapping up in less than two weeks, developer Epic Games is rolling out some of the most difficult challenges yet. The new unique Challenge has players "Visit different Taco Shops in a single match."
Unlike most other location-based Challenges, this Taco Shop Challenge forces players to visit these locations in a single match. There are a total of five Taco Shops spread across the map, but to complete this one, you'll have to make quite a trek across the island, visit the Shops in popular locations, do it all before the storm closes in, and avoid getting killed by other players in the process. Luckily, there's an optimal path that has you start at a location south of Shifty Shafts before working your way up to Tilted Towers and then west to a location towards Snobby Shores. Here's the path below, which you could technically take in reverse, but that's riskier. The whole journey should, in theory, take you less than 5 minutes if you do nothing but sprint.
You'd do well to start south of Shifty Shafts mainly because it's not a popular landing destination at all, whereas Tilted Towers has a reputation as something of a total shitshow because tons of players land there and kill each other at the start of every match. (That's partially why lots of players want it to be leveled by an asteroid). This way, by the time you get to Tilted Towers, most of the players who started there will have cleared out and pushed east.
Similarly, if you started at the location between Snobby Shores and Tilted Towers, you run the risk of getting attacked by the inevitable survivors of the initial purge in Tilted Towers. The only other two Taco Shops are in Tomato Town and Retail Row, two locations on the eastern half of the map. Running Retail Row to Tomato Town and then to Tilted Towers is another option, but that's at least 7 or 8 minutes of walking.
You better hurry up on this Challenge because if a popular theory turns out to be correct, then Tilted Towers — along with its Taco Shop — might get leveled when Season 3 ends later this month on April 30.
First Treasure Maps, then Gnomes, Ice Cream Trucks, and now Taco Shops — what's next, aliens!?