iPhone 9 vs. Samsung Note 9: Which Phone Is Better Based on What We Know?
What should you upgrade to?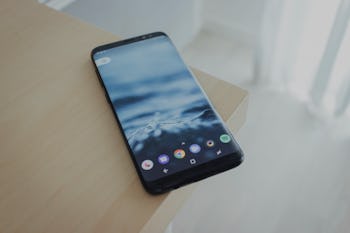 Unsplash / Adrien
It's that time of the year when smartphone fans across the globe ask the age old question: What should I upgrade to?
The debut of the Samsung Galaxy Note 9 is just around the corner, currently slated for August 9. Apple's rumored 6.1-inch iPhone, meanwhile, is expected to make an appearance in the fall. Both of these handsets will try to build off of the success of their predecessors.
There has been chatter that the so-called iPhone 9 will deliver the look, feel, and performance of the iPhone X at a lower price. Contrast that with the Note 9 leaks, which have so far stated that the device will provide the sleek screen and stylus combo it's known for along with some improved battery power.
iPhone 9 vs. Samsung Note 9: Which Will Be Most Colorful?
Both phones might come with all-new chassis color options that have never been available before. Evan Blass — a smartphone leaker with a history of accurate predictions — tweeted an image that depicted the Note 9 will come in black, blue, and brown. The current Note 8 comes in Midnight Black, Orchid Gray, and Deepsea Blue.
There is still some debate as to what colors the iPhone 9 will come in. A recent report from analyst Jun Zhang of Rosenblatt Securities said it would come in six different colors: white, black, "Flash Yellow", "Bright Orange", "Electric Blue", and taupe.
Ming-Chi Kuo — another Apple analyst — predicted the 6.1-inch phone will be available in five shades: gray, white, blue, red, and orange. Both Zhang and Kuo have connections in Apple's Asian Pacific supply chain, so it's difficult to say who's correct.
Regardless, these two competing predictions have more in common than they differ, and suggest the iPhone 9 will walk away the color champion.
iPhone 9 vs. Samsung Note 9: Which Will Have the Most Dazzling Display?
Leading up to the Note 9's scheduled August 9 announcement, a constant flow of leaks have given smartphone fans a pretty good idea of what it'll look like. The rumored 6.4-inch display will only be marginally larger than the Note 8's 6.3-inch screen. Based on the fact that the Note 8 has an OLED screen, it also seems likely that its successor will follow suit.
As mentioned before, the iPhone 9 is expected to have a 6.1-inch notched screen, notably larger than the 5.8-inch iPhone X. It has also been widely rumored that this upcoming iPhone will come with an LCD screen instead of an OLED display. This will make the phone cheaper, but the screen will likely be less vibrant than that of the iPhone X.
Side-by-side it would seem that the Note 9 will have the more dazzling display. This shouldn't come as a surprise, as Apple is heavily dependent on Samsung screens for its iPhones.
iPhone 9 vs. Samsung Note 9: Which Will Have More Power?
As for what might be going on under the hood of these two handsets, we also have a much better picture of the Note 9's capabilities.
For one, the battery will be massive. In a video posted on July 26, Samsung claimed that "power will no longer be a problem" with its newest release. This backed up a leaked document from from a Brazilian telecommunications certification board posted on SlashLeaks that claimed the phone's battery will increase to 4,000mAh from 3,300mAh.
While there hasn't been much information about the battery life of the iPhone 9, Apple's falling out with Qualcomm has provided information about what processors it will run on. The Note 9 will use Qualcomm's Snapdragon 845, while Apple will exclusively use Intel's processors.
Qualcomm touted the results of a recent Ookla speed analysis, which found the Snapdragon 845 outperformed Intel's processors. But benchmark measurements can also be misleading, we probably won't have a good idea of which can surf the web faster up until they're both released.
iPhone 9 vs. Samsung Note 9: What Should You Expect to Pay?
Finally, which one of these phones won't break the bank?
The $999 price tag for a baseline iPhone X raised some eyebrows and a number of rumors suggest Apple has taken that to heart. The iPhone 9 is anticipated to hit shelves at around $700, according to prolific smartphone leaker Benjamin Geskin.
There have been fewer price estimates for the Note 9, but seeing as the current Note 8 retails at $950 it's likely that it will launch at around that price range. However, a leaked Indonesian sales poster stated that a 512GB model of the phone could cost up to $1,210.