How to Uninstall iOS 12 Beta if Your Buggy New iPhone Is Driving You Crazy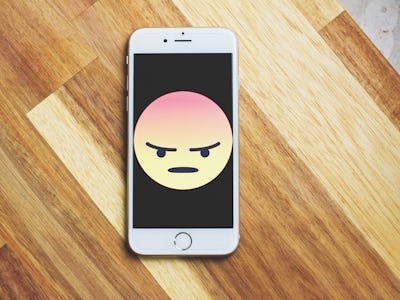 Maybe smarter Siri left you unsatisfied, or maybe those redesigned notifications have you feeling lost on your own home screen. It's rarely fun to be one of the first people at the party, and now you want to go back to your comfort zone. We understand, and we're here to help: Here's how to revert from the brave new world of iOS 12 Beta to the iOS 11 you know and love.
Of course, a few glitches are hardly out of the ordinary for beta software. Apple needs to conduct a dry run of its update to make sure the final version is as polished as possible. But giving ARKit 2.0 a test drive and trying out the redesigned notifications aren't worth sacrificing your phone's usability.
If you're being swarmed by iOS 12 bugs, don't worry, you won't have to wait until the fall to save your phone from all of these hitches. If you backed up your pervious version of iOS 11, reverting your phone to its former glory is only a few clicks away.
It's important to note that if you have never backed up your phone, following these steps will revert your device back to factory settings.
Uninstall iOS 12: Put your Device on Recovery Mode
Unfortunately, there's no magic button to downgrade like there is to upgrade. You'll have to first power off your iPhone or iPad by holding down the Side button until the "Slide to power off" slider appears. Once you've shut down your device, connect it to the computer where you've saved your backup.
The one tricky thing to keep in mind? Depending on what Apple device you're trying to put into recovery mode, you'll have to hold down different combinations of buttons.
iPhone X, 8, and 8Plus: Press and release the Volume Up and Volume Down buttons then hold down the lock button until you see the iTunes logo appear. Make sure to keep the lock button pressed until the logo appears.
iPhone 7 and 7 Plus: Hold down the Side and Volume Down buttons until the iTunes logo appears.
iPhone 6s and older, iPad, or iPod Touch: Simultaneously hold down the Home and Side button until the logo pops up.
Uninstall iOS 12: Get to Restoring
This part is easy. Once your device is plugged in and in Recovery Mode, iTunes will launch on your computer and prompt you with a series of pop-ups. Click "Restore" on the first prompt, and "Restore and Update" on the second.
Following these steps will bring up a summary of what comes with iOS 11, click "Next". This will be accompanied by the Terms and Conditions, click "Agree" to continue. Accepting this will rid your device of iOS 12 and restore it to factory settings with the iOS 11 software.
Uninstall iOS 12: Installing your Backup
If you want your device back to exactly how it was right before you upgraded to the iOS 12 beta, you'll need to restore it from an existing backup.
iTunes will prompt you with a "Restore from this backup" option, clicking this will bring up a list of your archived backups. Select the most recent one and say goodbye to those iOS 12 bugs.