Bethesda Finally Reveals When the 'Fallout 76' Beta Will Start
The wastes of West Virginia draw near.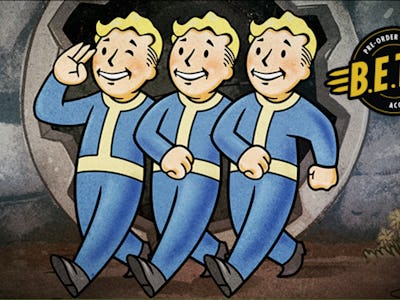 Bethesda Softworks
Many fans are eagerly waiting to hunt down the Mothman, the Grafton Monster, and other creatures of folklore and legend in Fallout 76. The game is still months away from release, but for the players who pre-ordered, the wait just became a little more bearable.
Bethesda announced that the Fallout 76 beta will begin in October, according to a statement made on the company's official forum. There's no word yet on a specific date.
Starting in October we'll be selecting people who have pre-ordered the game from a participating retailer to enter our B.E.T.A. We'll start small and grow over time as we prepare for launch. Be sure you've read our F.A.Q., for details on how to redeem your B.E.T.A. code and other important details.
It appears that beta access will be distributed in waves. If you ordered the game on Xbox One, then you're in luck, because Bethesda confirmed that Xbox players will get first dibs on the beta.
However, this came as disappointing news to some fans because of the tight margin between the game's beta and release. With the beta starting sometime in October and the official release happening on November 14, there's not a whole lot of time to test things out. The company reassured fans that everyone who pre-ordered the game will eventually get into the beta, but that window can be anywhere from a month to just a few days depending on your platform.
If you pre-ordered the game, you should already have received your beta code by now. All that's left is to wait for your wave to be called.
And if you're mad about the announcement, please don't be a jerk and take it out on the messenger. Save all that nerd rage for the blood-thirsty gankers you will inevitably encounter in West Virginia.
Fallout 76 launches on November 14.