'Fortnite' Week 10 Update: What to Expect From New Patch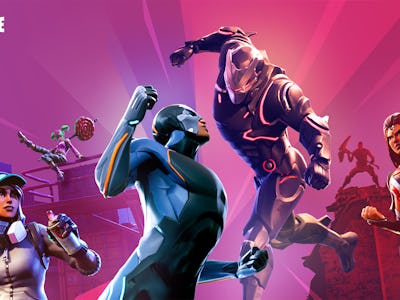 Epic
After an exciting weekend of rocket launches and strange happenings in Fortnite: Battle Royale, players should expect an update on Tuesday morning, if not Wednesday morning. The new patch will include new content and hopefully, some answers.
Epic Games usually updates Fortnite on Tuesday morning, but has been known to delay the update for a date like it did last week with the release of Playground, which was removed shortly after. As Season 4 comes to an end and Season 5 looming, Week 10 is when players should learn more about the changes from Saturday's rocket launch, a new weapon, and the return of a highly-anticipated mode.
Rocket Launch Answers
Since the rocket launch on Saturday, portals appeared across the island with some players seeing objects disappearing altogether. Oh and there's a big crack in the sky that's spreading. The current theory is that the Season 4 villain, "The Visitor," crashed on the island and attempted to return home in a rocket. It used portals in order to gain speed, but crashed into the sky creating a crack, which is itself could time portal as evident by leaked images from data miners. This is one of the most popular theories, but with the next update, there could be more about what's going on and how things will change for Season 5.
The Drum Gun
A new weapon in the next update is the Drum Gun. Similar to the iconic Thompson submachine gun, known better as the Tommy gun, the weapon is ideal for players who purchased the Hardboiled skin and the recently added Retail Row Detective Agency. Although the stats for the gun don't appear to be anything special, it seems that Epic was going for a certain aesthetic by including this weapon.
Playground Returns
Epic has yet to announce the return of Playground Limited Time Mode to the game, but players in other regions such as Asia, Oceanic, and Europe shared on social media images of the modes return. Announced back in May, Playground gives players an island to practice their skills or create without having to worry about 99 other competitors. It was added last week for only an hour as too many people logged into the mode thus slowing the matchmaking service for the game. Epic removed it, but gave regular updates on how it would be released soon.
Fortnite players should expect to see an update Tuesday, but Epic could hold it off for a day to make for a special July 4.