'Fortnite' Season 5: Conspiracy Theories Address Growing Crack in the Sky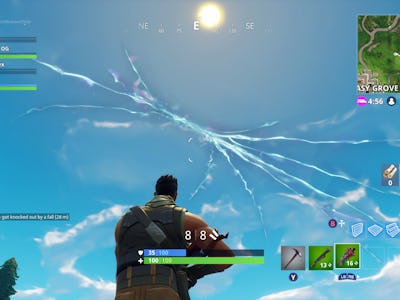 Epic Games pulled off something on Saturday rarely seen from a game developer. It conducted a one-time storyline event when a rocket launched in Fortnite: Battle Royale. Since the event, strange things have happened on the island leading to questions about what's coming next.
Saturday's rocket launched caused a crack in the sky, and multiple theories were formed on what the event means. A data miner found, prior to the launch, assets that suggest Fortnite: Battle Royale Season 5 will focus on time traveling. While that theory makes the most sense, it doesn't explain what's happening on the island.
A Growing Crack With Symbols
The crack in the sky shows signs of spreading. One Reddit user took multiple screenshots of the sky since the launch, and like a windshield, it's slowly growing. Another user posted an image of part of the crack, and it looks like a symbol is in the sky. Some players are suggesting the symbol is Japanese.
July 18?
A new pickaxe in the shape of a magnifying glass led a Reddit user to find a new discovery in Flush Factory. A logo in one factory is hard to read on its own, but with the magnifying glass, Roman numerals can be seen. The numbers come out to "July 18, 2018." That date would be a week after the beginning of Season 5, but Epic could make some changes to the start date.
Old Timey Picture
In the latest update, a new building was added to Retail Row. The detective agency appeared, which goes with the newly released Hardboiled Outfit and gear made available on Sunday. One Reddit user noticed a certain picture in the agency that looks like it was from the Old West, which is similar to the assets data miners found last week.
Tomato Town Portal
A YouTuber posted a video showing a portal in Tomato Town. A portal showed up Sunday at Lonely Lodge, but players confirmed it has since disappeared. Then on Monday, Mr. Tomato Head in Tomato Town has a glowing portal within it.
Missing Model Sign
Speaking of portals, a motel sign near Anarchy Acres is gone. A Reddit user documented the disappearing sign as a portal pulsates.
The Fortnite rocket launch was just the beginning of the events leading to the start of Season 5. Could parts of the island disappear into the past as portals pop up across the island? Players will have to wait for the next update on Tuesday. Epic could also release the next update on Wednesday to celebrate July 4th.
Another blast from the past coming in the next update is the Drum Gun. Look like Dick Tracy with the new weapon and the Hardboiled skin.