Counties with Prolonged Opioid Use Also Strongly Support Trump, Data Shows
Scientific data has proven true a theory about the 2016 presidential election.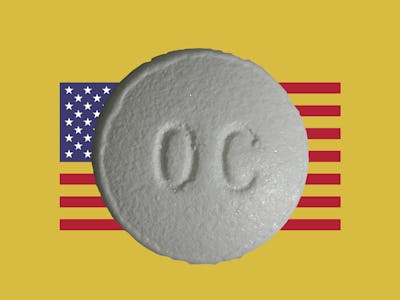 A month after the 2016 presidential election, political observers began to note that regions which went to Donald Trump also saw of high rates of opioid use. On Friday, scientific data was published that confirms that link, using Medicare claims, voting records, and information from the U.S. Census Bureau.
Chronic use of painkilling opioids — OxyContin, Percocet, Vicodin, and Demerol are the most popular brands — broken up by by U.S. county correlates with with strong voter support for Trump, a team of doctors and public health researchers explain in a study published in JAMA Network Open, a publication from the Journal of the American Medical Association.
Counties that had higher-than-average prescription rates for opioids in 2015 were the same counties that claimed a higher-than-average Republican voter base during the 2016 general election, when compared to counties with average opioid prescription rates.
"This association is related to underlying county socioeconomic characteristics that are common to both chronic opioid use and voting patterns," the researchers write, "particularly characteristics pertaining to income, disability, insurance coverage, and unemployment."
This study specifically examines the association, at the county level, between the rate of Medicare Part D enrollees who received prescriptions for chronic opioid use and the percentage of votes that went to Trump. Here, chronic opioid use is defined as individuals who received a 90-day or more supply of opioids prescribed in 2015. Medicare Part D, also called the Medicare prescription drug benefit, is a program designed to help Medicare beneficiaries pay for self-administered prescription drugs.
Of the 3.7 million enrollees whose files were examined, 60 percent were female and just 18 percent were younger than 65-years old. Approximately 81 percent identified as white. The researchers determined that the counties with the highest rates of opioid use were predominantly concentrated in the South and Appalachian areas, as well as Michigan and some western states.
The researchers generated one map (above) featuring the counties with the highest rates of opioid use and a second map (below) demonstrating the percentage of the presidential vote that went to Trump. These two maps show very similar patterns.
The researchers write that synthesis of the two maps reveals that, "Republican support explained 18 percent of the variance in county rates of opioid use in 3,1000 counties in the United States, with counties whose opioid prescription rates were above average having a higher mean Republican vote than counties with prescription rates below average."
Aware that opioid abuse was a key issue to his constituents, Trump declared the opioid crisis a national Public Health Emergency under federal law in October 2017. However, some have expressed dissatisfaction with his administration's anti-opioid efforts, led by White House counselor Kellyanne Conway. Websites like crisisnextdoor.gov — "where Americans can share their own stories about the dangers of opioid addiction" — and a commercial public service campaign that warns young people about opioid addiction are among the public outreach efforts.
Attorney General Jeff Sessions spoke at the U.S. Opioid Summit organized by the Justice Department in Tampa Bay, Florida, in February saying that Americans should "tough it out" with over-the-counter medications for pain relief.
"This nation has got to get its head straight on it," Sessions said then. W"e have got to create a climate of hostility to this. As President Trump said, 'just don't start. If you don't start, you won't get addicted.'"
To create meaningful change, a recent Nature editorial argues, more money needs to go towards public-health interventions to help people deal with addiction, new drug developments, and deploying existing treatments like the overdose-reversal drug naloxone. As that conversation continues, the problem persists: Between 2016 and 2017, drug overdose deaths — predominantly driven by opioids — rose by 12 percent according to the CDC.
Abridged Study Abstract:
Objective: To explore the overlap between the geographic distribution of U.S. counties with high opioid use and the vote for the Republican candidate in the 2016 presidential election.
Results: Of the 3,764,361 Medicare Part D enrollees in the 20% sample, 679,314 (18.0%) were younger than 65 years, 2,283,007 (60.6%) were female, 3,053,688 (81.1%) were non-Hispanic white, 351,985 (9.3%) were non-Hispanic black, and 198,778 (5.3%) were Hispanic. In a multilevel analysis including county and enrollee, the county of residence explained 9.2% of an enrollee's odds of receiving prolonged opioids after adjusting for individual enrollee characteristics. The correlation between a county's Republican presidential vote and the adjusted rate of Medicare Part D recipients receiving prescriptions for prolonged opioid use was 0.42 (P < .001). In the 693 counties with adjusted rates of opioid prescription significantly higher than the mean county rate, the mean (SE) Republican presidential vote was 59.96% (1.73%), vs 38.67% (1.15%) in the 638 counties with significantly lower rates. Adjusting for county-level socioeconomic measures in linear regression models explained approximately two-thirds of the association of opioid rates and presidential voting rates.
Conclusion and Relevance: Support for the Republican candidate in the 2016 election is a marker for physical conditions, economic circumstances, and cultural forces associated with opioid use. The commonly used socioeconomic indicators do not totally capture all of those forces.