'Wonder Woman 2' Director Shares New Photo of Steve Trevor in the '80s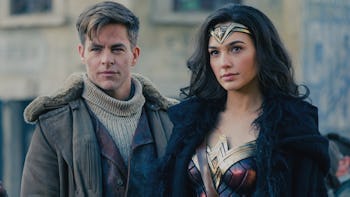 Warner Bros. Pictures
Steve Trevor looks good for being old and dead. In a new photo from Wonder Woman 2 shared by director Patty Jenkins, the ace World War I pilot is seen stranded in a foreign time and place: A shopping mall in the '80s.
On Wednesday, Patty Jenkins woke the internet up by tweeting a new hi-res photo of Chris Pine, reprising his role as the dashing spy/pilot Steve Trevor, inside a typical American shopping mall that proliferated during the economic boom of the 1980s.
"Welcome to WONDER WOMAN 1984, Steve Trevor!" Jenkins tweeted, with the hashtag "#WW84." So that about confirms Steve is back, but how?
In last year's blockbuster hit Wonder Woman, Steve Trevor heroically sacrificed himself in the big battle, but not before smooching lead super-heroine Diana Prince (played by Gal Gadot). That Trevor is wearing a goofy brown tracksuit, with Pine in make-up to look advanced in age — but not that much older — raises many questions about Steve Trevor in the new film.
Wonder Woman 2, which will also have Gadot return as the iconic Justice League member, and comedienne/actress Kristen Wiig as the villain Cheetah, will hit theaters next year in 2019.
The photo additionally provides visual confirmation over the period setting of Wonder Woman 2. For months, rumors hinted that the film would take place during the Cold War, a very abstract period when tensions between the United States and Russia were at an all-time high which cannot possibly happen today.
While 2016's X-Men: Apocalypse stumbled in portraying teenaged superheroes in the 1980s (with its very own mall sequence that was unfortunately removed in the final cut), hopefully Wonder Woman 2 can be a franchise known for fun and unique period settings.
Wonder Woman 2 hits theaters on November 1, 2019.