'Anthony Bourdain: Parts Unknown' Netflix Streaming Has Been Extended
Netflix has extended the end date of Anthony Bourdain's CNN travel series.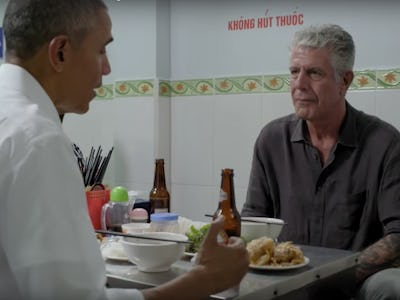 YouTube.com/CNN
Shortly after Anthony Bourdain died of suicide at the age of 61 last week, fans of the celebrity chef and author have found solace in binge-watching his CNN documentary series Parts Unknown on Netflix. But some may have been cramming episodes due to the fact the series was set to be removed from the platform on June 16. Apparently, enough subscribers have voiced their opinions, as Parts Unknown will continue streaming after June 16.
On Tuesday at 3 p.m. Eastern, Netflix confirmed on its Twitter account that Anthony Bourdain's Parts Unknown will continue to be available to watch "for months to come." The new expiration date is currently unknown.
"Some fans have noticed that Anthony Bourdain: Parts Unknown was scheduled to come off Netflix US on June 16," tweeted Netflix, with unusual formality atypical to other tweets of memes or GIFs. "As of today, we've extended our agreement that will keep Parts Unknown on the service for months to come."
This is good news for fans, and for everyone in general, as the life-affirming travel series is probably the best thing anyone could watch in this fucked up climate. Unlike the majority of other travel shows, Parts Unknown was less about awesome food but about the people who make them. Throughout the series, Bourdain kicked it with journalists and punk rockers and grandmas and Barack Obama to talk about life over beer and steaming plates of whatever.
Bourdain was also never elitist about the food. Dude was happy to eat hot soup from a roadside cart or from a Sizzler in Koreatown, because he knew cheap soup and Sizzler was where people actually went to eat. And as Bourdain ate grub from the Bronx to Beirut, Parts Unknown became a mosaic of the human experience, not diluting our cultural differences but highlighting them to show how beautiful the world can be. It should be no surprise that some of Bourdain's fans were astronauts who were just a little homesick for the pale blue dot we find ourselves on.
Anthony Bourdain: Parts Unknown is still streaming on Netflix.
If you or someone you know needs help, contact the National Suicide Prevention Lifeline at 1-800-273-8255.