With Comic Books, a Different Anthony Bourdain Served Satire and Violence
On TV, Anthony Bourdain was warm, empathetic, and thoughtful. In comics, he was sarcastic and bold.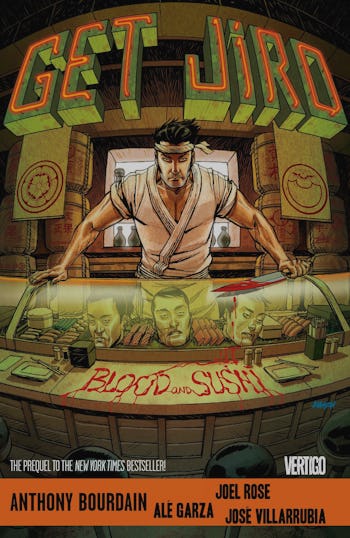 Vertigo
Anthony Bourdain, who died on Thursday at the age of 61 by suicide, was most famous as a celebrity chef, author, and host of television shows like No Reservations and Parts Unknown on CNN. But two things Bourdain seemed to love as much as food were people and storytelling, and these passions came together in Bourdain's compelling forays into comic books.
Between 2012 and as recently as May of this year, Bourdain collaborated with ex-journalist and novelist Joel Rose and a row of illustrators like Langdon Foss, Alé Garza, Francesco Francavilla, Irene Koh, and so many more, on three original works: The Vertigo graphic novel Get Jiro! and its 2015 prequel Get Jiro: Blood and Sushi, and the four-issue limited series Hungry Ghosts for Dark Horse.
Get Jiro!, which Bourdain described to Joe Rogan in his podcast was a "satirical slaughter fest" that plays like "Yojimbo, Fistful of Dollars, but all about chefs," takes place in a future L.A. where chefs are feudal lords fighting for territory. A turf war is brewing between fusion cooks and organic vegans, when in the middle steps Jiro, a lone sushi chef who is pulled into both sides of a food fight.
Hungry Ghosts, published this year, is a fantasy anthology that spins the supernatural with food. The four-issue series contains multiple short stories, set in times and places as varied as ancient Japan and modern France, but all share the common thread of food, storytelling, and the unexplained.
As these comics weave sci-fi and fantasy with the culinary world, Bourdain's comics feel like a radically different side of the renowned chef whose journeys abroad rarely, if ever, held the unsavory flavor of colonization. In comics, Bourdain is bitingly funny, and a tad sinister; in the opening of Get Jiro!, the hero — whom Bourdain said he imagined a young Takeshi Kitano in a film adaptation — decapitates a white guy for ordering a California roll. This, from the same Anthony Bourdain who drank beers over blue plastic chairs in a working-class Hanoi diner with Obama.
As he was about a lot of things, Bourdain was real about comics; he dedicated Get Jiro! to Jack Kirby, a long-dead legend whose sanctity hasn't been spoiled by a parade of cameos. Bourdain revealed in multiple interviews he loved comics well into adulthood, holding onto his collection until he sold them to feed his demons. "I sold them off for drugs," he told Joe Rogan in 2013. "I was a sensible kid who had a comic book collection, but cocaine is a powerful drug."
To watch or read Bourdain in hindsight, as many will soon do, will no doubt reveal a complex figure, another celebrity who proves that fame, talent, and even reputation for being a decent person, valued currency like water in the post-apocalypse, isn't everything. Maybe sometimes, you just want to enjoy something as simple as a comic book. As he told Rogan about making Get Jiro! in 2013: "I'm doing it 'cause it's fun."
If you or someone you know needs help, contact the National Suicide Prevention Lifeline at 1-800-273-8255.