Listen to the Late Anthony Bourdain Describing a City of the Future
"You could be in rural, shithole village in Sichuan province, and you're getting five bars."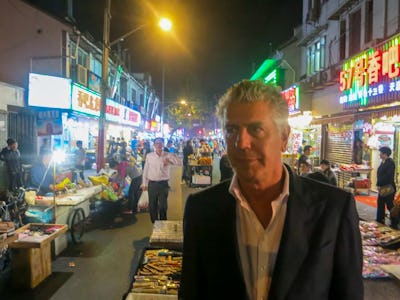 In the wake of the tragic news that Anthony Bourdain was found dead in his hotel room in France, on location for his TV series Parts Unknown, his fans worldwide have been sharing his work — his 1999 breakout essay in The New Yorker about what really happens in restaurants, his TV video clips, and passages from his books.
As shooting for Parts Unknown took the former New York chef all over the world to seek out how people eat and live in far-flung locales, he was given a rare opportunity to see how some cultures seemingly already exist in a vision of the future when compared to how life is conducted in the majority of America. It was just one way Bourdain engaged with the future. He passively experienced that future while traveling, and with his massive platform on CNN and Twitter and other places, he exposed millions to new ways of eating and thinking and living, bringing swaths of people into their own personal futures. Future you might eat something because Anthony Bourdain's put it in a new light for a chef somewhere.
One city where he saw the future being realized? Shanghai, China, as he said on the Nerdist podcast in 2014. Bourdain had just returned from the country, and told host Chris Hardwick: "You really see the future, and it doesn't include us," Bourdain told his fellow white guy, Hardwick, to uproarious laughter, before he quickly moves into offering a few examples of why the city is the new global center of wealth and technology — not New York or Los Angeles.
"They're so far ahead; there's a Maserati dealership on every corner, modern buildings and infrastructure, and high-speed rail. Everything works. Every time I go it's moved forward 20 years in four years."
He continues later:
"We will all be carrying their golf bags in a couple years. The money there, you could smell money; people making money, spending money, and building stuff. It's incredible."
One smaller sign you're in the future, Bourdain says, is the cell connectivity in the most remote places: "You could be in rural, shit-hole village in Sichuan province, and you're getting five bars," he joked.
Watch a clip of that episode here:
Listen to the full interview on Nerdist.