Neil deGrasse Tyson Reflects on Anthony Bourdain's Support for Science
"At least we got to share this universe with him."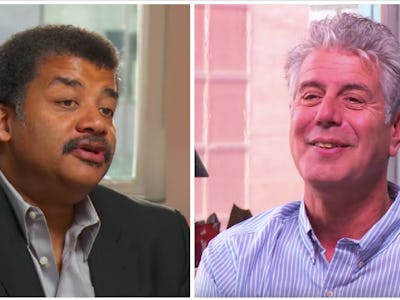 Screenshots via YouTube
Heartbreaking responses to the death of the chef, philosopher, and Parts Unknown host Anthony Bourdain by apparent suicide are revealing the breadth of the beloved star's influence. In a heartfelt and candid CNN interview on Friday, astrophysicist Neil deGrasse Tyson reflected on Bourdain's life, legacy, and scientific perspective on the world.
Even deGrasse Tyson, who has often been accused of being tone-deaf, seemed genuinely stunned and saddened by the news. The StarTalk host was originally invited to CNN to discuss NASA's new evidence showing traces of life on Mars, but upon hearing of Bourdain's death pivoted the interview toward a reflection on the preciousness of life.
"When you lose a life, particularly one that is lost tragically and not sort of by natural causes — especially for me and certainly for everyone — it hits that much more deeply because of so much effort that I know we spend in this search for life in the universe," he said. "But at least we got to share this universe with him."
Bourdain was a "friend of the show," said deGrasse Tyson, recalling the chef's appearances on StarTalk over the years. "We talked about the science of food and the relationship between culture and what foods you would eat or have the likelihood of eating depending where you are — what latitude you are on earth, what foods you prefer, how much spice is in it," he said.
He was vocal about his support for the scientific community. In May 2017, when Bourdain traveled to Antarctica for Parts Unknown, he spent the majority of his time with the scientists stationed there, conducting research on climate change. The episode led the American Council for Science and Health to commend Bourdain for his honest depiction of the lives of those scientists. In a blog post, Bourdain wrote about his admiration for those researchers:
This could easily have been a show about history and geology and the changing climate, about penguins and seals and breathtaking vista—-and it is about those things. But what it's really about is the incredible community of people who choose to live and work in the harshest environment on Earth, working long hours in decidedly Spartan conditions for months on end, all in support of the acquisition of knowledge. It is an extraordinary and inspiring thing.
So shout-out to the Wasties and Fuelies and Carps and Riggers and Beakers and everybody else who works tirelessly in support of that increasingly unpopular discipline called "science."
His proclivity for exploring and traveling made him, in many ways, a scientist himself. Speculating on what an episode of Parts Unknown might have looked like if Bourdain had the chance to see Mars, deGrasse Tyson said: "I'd have to advise him, the cooking parameters would be different in the thin atmosphere on Mars." If Bourdain went there and discovered life, he continued, "He would find out what kind of food it's eating."
Bourdain's death underscores the gravity of America's suicide problem. Just Thursday, days after the suicide of designer Kate Spade, the Centers for Disease Control and Prevention reported alarming upticks in suicide rate in the United States, noting that providing better mental health support for citizens is no longer enough to curb this public health crisis.
As he reflected on Bourdain's death, deGrasse Tyson drove home the importance of protecting life in all its forms. "I think a lot about the universe, and our curiosity manifested within it. And here is NASA and all of us collectively investing in the search for life on Mars," said deGrasse Tyson. "And we know implicitly if not explicitly that life is something precious, and wherever you find it, you cherish it and nurture it."
If you or someone you know needs help, contact the National Suicide Prevention Lifeline at 1-800-273-8255.