3 Ways Kate Spade Innovated Design
Her designs moved her craft forward and inspired countless women.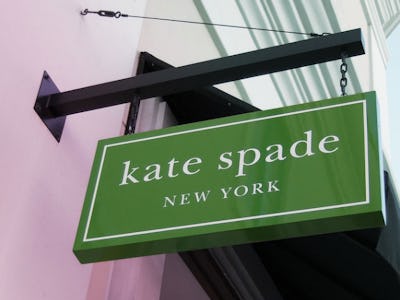 Flickr
Famous fashion designer Kate Spade was found dead in an apparent suicide on Tuesday in a complete shock to the fashion and business worlds. In so many ways, Kate Spade innovated design and fashion, and her passing hit a lot of people very hard. Not only was Spade a savvy designer and astute businesswoman, she was also a huge inspiration to women from all walks of life.
Spade was 55-years-old at the time she was found in her New York City apartment, according to New York Police Department sources and CNN. A note was reportedly found at the scene addressed to her 13-year-old daughter, in yet another added layer of sadness to the tragedy. And women the world over are mourning the loss of the designer today, having lost an inspirational figure who changed the fashion world — not to mention an untold number of closets and personal wardrobes — forever.
Spade Focused on Accessories
In 1986, Spade got a job in the accessories department at Mademoiselle magazine. But she didn't see a future for herself at the publication, according to CNBC, and quit a few years later.
Spade decided to pursue making handbags instead, and both that early experience working with accessories at the magazine and her own love of the accessories likely shaped her views of what was missing from the handbag field in fashion. No one was doing what Spade was when she decided to focus on accessories and handbags, and her designs were a game-changer.
Spade Made Fashion Attainable
Women in the early stages of their professional careers were actually able to afford the products Spade offered. Spade's bags were more "attainable" than a Fendi clutch or Chanel bag, The New York Times pointed out. "Buying a Kate Spade handbag was a coming-of-age ritual for a generation of American women," the outlet noted, and Spade's designs were right in the sweet spot of being coveted pieces without a truly insane price tag.
Women can reasonably save up to treat themselves with a Spade handbag, without being millionaires. That's a beautiful thing when it comes to fashion that's both classy and well-made, and Spade's designs led the way on accessible fashion in a lot of ways.
Spade Made Simple Designs, With a Twist
Spade did things a little bit differently with her handbags. As one infamous example, she put the "kate spade new york" label on her bags on the outside, rather than the inside like most other designers. The black rectangle with the brand name in white letters was simple but iconic.
Many people on Twitter reacted to the news of Spade's death on Tuesday by talking about their own Spade pieces, calling the products "colorful," "cheerful," "fun," "quirky," and noting that her designs were different, and made women feel confident, classy, and happy.
Spade's designs were unlike anything other designers were doing in fashion when she started her handbag and fashion empire. She was truly an innovator in her field who moved her craft forward and changed the world, one handbag at a time.
If you are struggling with depression or suicidal thoughts, the National Suicide Prevention Lifeline can help. The Lifeline can be reached at 1-800-273-8255. You can also text HOME to the Crisis Text Line at 741741.