Why the Startup Stitch Fix is the Future of Clothing
Going public is just the beginning.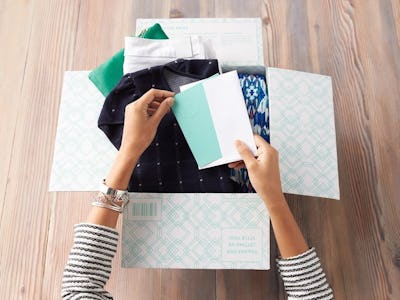 Stitch Fix
Clothing startup Stitch Fix has gone public, signaling a new era for fashion e-commerce. With more than $1 billion in sales, the San Francisco-based subscription service is looking to continue growing after several quarters of continuous profit.
Stitch Fix, which boasts a workforce that is 86 percent women, has pioneered the "online styling" concept in which users allow a mix of algorithm and virtual stylists curate their wardrobes. It's the equivalent of making a personal shopper appointment at a department store, minus the trip back and forth. You simply get a box of clothes delivered to you for a fee and return the items you don't like.
With direct-to-consumer shopping becoming the norm, traditional brick and mortar retailers are scrambling to catch up, not just to online clothing retailers like Everlane and ASOS, but specifically those like Stitch Fix, which take the seemingly endless clicking out of the equation.
Last year, global e-retail sales reportedly amounted to $1.9 trillion dollars, giving Stitch Fix a small but decent-sized slice out of that pie, especially for a startup.
Employing more than 5,000 stylists all over the country, the company sees itself at the forefront of the barrier-breaking shopping experience. Given that 51 percent of Americans prefer to shop online to begin with, its rapid growth since it was founded in 2011 in CEO Katrina Lake's apartment makes sense.
"Stitch Fix is the world's leading online personal styling service that blends the art of expert personal styling with the science of algorithms to deliver apparel and accessories tailored to your taste, budget and lifestyle," the company states on its site.
Similar subscription models hoping to duplicate Stitch Fix's success include Nordstrom's Trunk Club and menswear counterparts SprezzaBox.
Only time will tell if Stitch Fix's initial public offering was a good move, but it's safe to say the service has already changed the future of online shopping for good.