iOS 11.4 Public Beta 5: Updates, How to Download, and More
The official release is getting closer.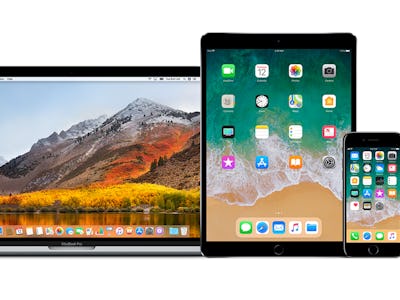 Apple Beta Program
Apple rumors have been flooding the internet with whispers about how the iPhone SE 2 might look like, what the iOS 12 update might have in-store, and whether or not the iPhone X will come back from the dead as the iPhone X Plus. Apple fans will get some closure on all of this once the company's Worldwide Developers Conference kicks off on June 4. But until then we'll have to settle for another beta release of iOS 11.4.
On Monday, Apple released its fifth version of the software update only a week after making the four version available. Unfortunately, users expecting big changes like we saw during the rollout of iOS 11.3 will probably be disappointed with 11.4. The upgrade isn't bringing any revolutionary features to the iPhone or iPad, but it is going to fill some gaps in the HomePod and the Apple TV, rollout a Cloud feature for iMessage, and include a new wallpaper.
iOS 11.4 Public Beta 5: How to Download
If you've already tested out other iOS public betas then downloading iOS 11.4 should be a breeze. Simply head over to Apple's beta program site and sign in with your credentials.
If this is your first beta, you'll need to jump through a few hoops:
Backup Your Device: Betas are always subject to bugs so always backup your iPhone or iPad to ensure you have something to fall back on if the new iOS goes awry. This is easily done by plugging your phone into a laptop or desktop and follow the prompts in iTunes.
Register Your Device: Next you'll have to enroll in the beta program. That's as easy as entering your Apple ID email, password, and accepting the terms and conditions.
Download the Beta: While you're still in the beta program site, tap the iOS tab to begin downloading your profile. Click the "Install" button at the upper right corner, enter your password, and you'll start uploading right onto your phone.
Install the Beta: Finally, just head on over to the "Settings" app from your home screen, tap "General," and then "Software Update" to access it. Once it's ready you can start testing.
iOS 11.4 Public Beta 5: What to Expect
Apple TV and HomePod: This update will include AirPlay 2 in the Home app. This will allow for multi-room streaming with Apple TV. So you can ask Siri on your iPhone to flip on a show in your bedroom without having to lift a finger. HomePod will also begin supporting Calendar, so your smart home device is more in tune with what's actually going on in your life.
Cloud iMessages: This feature will sync all of your message across every Apple device you own. So if you delete something in your iPad it will also disappear in your iPhone. No need to go through all of your devices just to get rid of one text conversation anymore.
(Product) RED Wallpaper: Owners of the (Product) RED iPhone 8 or 8 Plus users will also get a background image.