Apple's Red iPhone Comes With Mind-Boggling Stats
Apple's next iPhone is coming soon.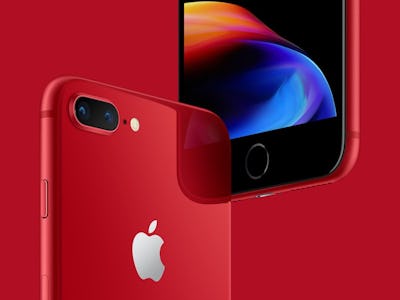 Red/Twitter
Apple announced the upcoming release of a new iPhone on Monday: The "(Product)Red" special edition model is set to launch on Tuesday, offering the iPhone 8 and iPhone 8 Plus in a fetching color aimed at raising money for the AIDS-fighting charity "(Red)." It's the latest release in a 11-year partnership between the two groups, which sees Apple donate an unspecified amount for each sale from its red lineup of products. The statistics around the project, announced again on Monday, are massive.
The move will be a welcome boost for the charity, which has received over $160 million in donations from Apple so far, enough for 800 million days of ARV medication. Apple CEO Tim Cook thanked consumers for supporting the program in a tweet, saying it has helped in "fighting the spread of HIV in Africa and bringing us closer to an AIDS-free generation."
The partnership first started back in 2006, when Apple launched a special edition iPod nano. It was created in partnership with U2 frontman Bono, co-founder of "(Red)," who previously worked with Apple's then-CEO Steve Jobs to develop the special edition U2 iPod. Initially Bono wanted to engrave "(Apple)Red" on the device, but Jobs adamantly refused, resulting in the current compromise. The new iPhone will be available in 64GB at $699 for the 4.7-inch model and $849 for the 5.5-inch model, or in 256GB at $799 for small and $949 for large, the same prices as the space gray, silver and gold models. The company will also offer a "(Product)Red" leather folio case that covers the front of the device for $99.
Since the initial partnership, the company has released a number of products under the banner, some harder to grab than others. A "(Red)" Mac Pro sold for $977,000, while a "(Red)" desk designed by Apple chief designer Jony Ive (which curiously enough was not actually red) sold for $1.7 million.
Consumers will be able to order the phone from Apple's website starting at 5:30 a.m. Pacific time on Tuesday. It will then be available in Apple stores around the world including the United States on Friday, April 13. Further regions will receive the color in April and May.
You'll have to act fast if you want to grab Apple's latest iPhone.