Leaked 'Fortnite' Season 4 Week 2 Challenges Have Players On the Hunt Again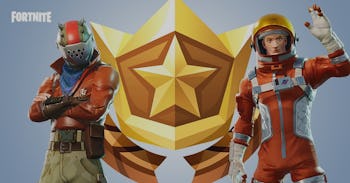 Twitter
Weekly Challenges are important for Fortnite players to get access to all the in-game cosmetics. To get a jump on the competition, Week 2 Challenges have been leaked so players can start preparing.
Datamining site, Fortnite Tracker, published the Fortnite Season 4 Week 2 Challenges on Saturday. The seven tasks consist of easy challenges, which are worth 5 Battle Points, and hard challenges worth 10 Battle Points. Acquiring these points throughout the season will increase a player's season level, which unlocks more content.
Out of the seven tasks, the trickiest will likely be the "Search between a Scarecrow, Pink Hotrod, and a Big Screen" challenge. It'll take some searching to find the right spot on the entire island.
Two challenges that are the result of the recent Season 4 changes are "Dance in front of different film cameras" and "Consume Hop Rocks." Epic Games added cameras across the island as part of the "Blockbuster" theme for the new season. Hop Rocks are scattered in craters where meteors struck the ground. Dusty Divot, formerly known as Dusty Depot, has a ton of these crystals that will lower the gravity for players to let them jump higher for a short period of time.
Weekly Challenges go into effect on Tuesday, usually after Epic Games completes an update or does system maintenance on the servers. Once live, Fortnite: Battle Royale players with a Season 4 Battle Pass, which costs 950 V-Bucks, can attempt to complete the challenges for Battle Stars to increase their season level. Reaching new level tiers will unlock new outfits, emotes, and other in-game content.
The challenges for Week 1 had players roaming the islands in search of the letters "F-O-R-T-N-I-T-E" find a treasure hidden at Loot Lake, and a secret Battle Star that was only hinted at in an unlockable loading screen. Dataminer also leaked some of the content coming in Season 4.