'Fortnite': How to Find Secret Battle Star in 'Battle Royale'
It's right in front of your eyes.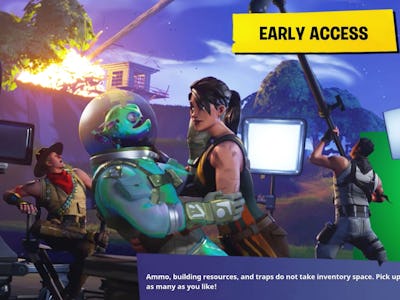 YouTube
As the first week of Fortnite Season 4 comes to an end, it's time to make a push to get those last Battle Stars from the Weekly Challenges. New this season are Blockbuster Challenges, which will unlock a new outfit and a clue to a secret Battle Star.
There are seven challenges available for Week 1. Once a player completes those tasks, they will also complete the first Blockbuster Challenge and unlock a new Fortnite loading screen called "Quiet On the Set." It's in that new loading screen that one keen-eyed Reddit user was able to find a secret.
In the background of the image, there's a guard tower at the jail and right on top, barely visible, is a Battle Star. At the prison, which is now partially destroyed thanks to the meteors, will have a tower still standing. Once a player gets to the top of the structure, a Battle Star will appear.
Completing the Blockbuster Challenges in the season will unlock hidden skins, as well as help players get to tier 100 faster. Weekly challenges are available to those who purchased the Season 4 Battle Pass.
There were two other tricky challenges in Fortnite Season 4 Week 1. One task had players search across the island to find the letters "F-O-R-T-N-I-T-E." The other required the use of a treasure map hidden in Tomato Town, which shows a spot off the island located in Loot Lake. Aside from these two, the other challenges were pretty standard such as using certain weapons or items, eliminating opponents, and finding chests in a certain area.
Fortnite: Battle Royale Season 4 made a lot of changes to the map when it launched on May 1. Dusty Depot is now Dusty Divot and across the map, there are craters, which have crystals known as Hop Rocks that will lower a player's gravity to let them jump higher for a short period of time. Epic Games will announce the next batch of challenges when it does weekly updates to the game Tuesday morning.