'Fortnite' Tomato Town Map: How to Find the Treasure in Week 1 Challenge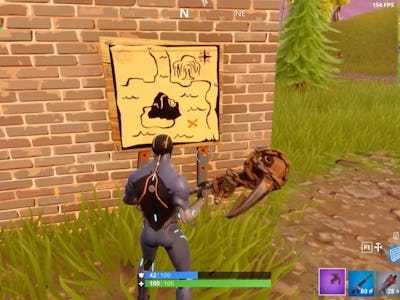 YouTube
Season 4 of Fortnite is now underway, and Epic Games has revealed the first of the weekly Challenges. Most challenges involve using certain weapons or managing damage, but the tricky ones require players to go to a specific location. Luckily, Epic provided a treasure map for this challenge.
The description for this Season 4 Week 1 Challenge says, "Follow the treasure map found in Tomato Town." To find the treasure map, head just a bit north and west section of Tomato Town, right next to the Taco Shop. Where the fence meets the brick wall, there's a dumpster hiding the treasure map. Destroy the dumpster and take a good look at the map, but be careful as this section of the map will likely have other players coming to the area to take a gander.
On the map, there's an "X" on a lake near a small island. A small island on a body of water can mean only one spot, Loot Lake. An easy way to find the location is to look at the map and head for the "E" in Loot Lake. Players will see a half a rowboat floating in the water and getting close to the boat will cause the Battle Star to appear.
Weekly Challenges are only available for Fortnite players who purchased the Season 4 Battle Pass. Players with the Battle Pass will receive more Battle Stars, which helps increase a player's season level. Reaching certain levels unlocks content such as outfits, emotes, and other in-game items, and players with the Battle Pass has even more content available to unlock. A Season 4 Battle Pass costs 950 V-Bucks.
Fortnite Season 4 made a lot of changes to the game when it went live on Tuesday. There's a new area, Dusty Divot, and an emote modeled after one kid who danced his heart out.
Another tricky weekly Challenge required players to travel across the island to find the letters "F-O-R-T-N-I-T-E," which were placed in certain areas on the map.