Orange Shirt Kid Immortalized with New 'Fortnite' Emote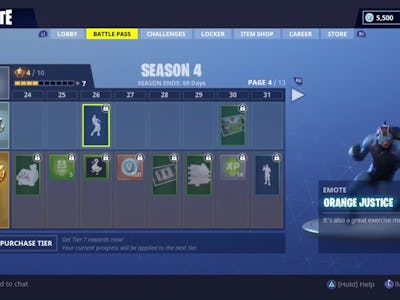 YouTube
What started as a dream for one young boy is now a reality. Fortnite Season 4 added a lot of new content such as new areas and cosmetics. But it's one particular emote added to the game that is dedicated to a certain kid in an orange shirt who could really get down.
Twitter user @Kid_Fortnite12 became a hit in the Fortnite community when he tweeted a video of his submission for the #BoogieDown contest. Although Epic Games did select a winner for the contest, it was the boy known simply as "Orange Shirt Kid" that stole the hearts of players. In Fortnite Season 4, he became immortalized as his dance was added to the game as an emote called Orange Justice.
"Hey! Thank you to everyone who did the #justicefororangeshirtkid and who signed the petition. It really helped getting me in the game," he tweeted Tuesday.
Fortnite Season 4 made a lot of changes to the game. In Fortnite: Battle Royale, players can now explore Dusty Divot, the remnants of Dusty Depot where there was a giant impact from a meteor. Scattered throughout the area are crystals that give players extra height to their jumps. Another area of the island formerly unnamed is now known as Risky Reels. For Save the World players, they can make use of a new set of hero characters added to the game.
Players who want to dance across the island like the "Orange Shirt Kid" can get their hands on the emote for free as a reward for leveling their Battle Pass to the level six tier. The description for Orange Justice says, "it's also a great exercise move," which is what he said after showing off his dance in the original tweet.
It was a crazy April for Fortnite: Battle Royale players. First, there was a comet in the sky, then came a meteor shower, and soon rocks fell from space. All of this was done by Epic Games to create a lot of hype for Season 4.