Elon Musk Shares 'Woke Frisbee' in Cryptic Instagram Post
It came just before Tesla's earnings call.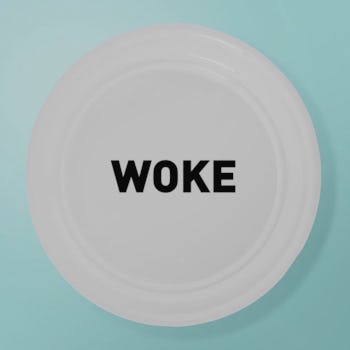 Instagram
Elon Musk is getting cryptic again. Just before the Tesla CEO jumped on a conference call with analysts to discuss the company's first-quarter earnings results on Wednesday — a discussion that left Musk dismissing questions as "boring" and "so dry" — he shared an image on Instagram of a mysterious frisbee.
It's the latest in a number of mysterious Twitter posts from the tech entrepreneur. The "woke frisbee," as Musk captioned the image, shows a white frisbee with the word "woke" written in black capital letters over the center, shared with no explanation. It's a habit for Musk lately: on Monday, he declared that he had "prehensile eyebrows," causing a surge of searches for the meaning of the word "prehensile." Last week, he said he was working on a "cyborg dragon," perhaps in relation to the SpaceX Dragon capsule that delivers supplies to the International Space Station. Last month, he said he was building a new "intergalactic media empire" called "Thud," before telling his 21.6 million followers to "thinkularity" and "resist."
It's unclear what "woke frisbee" could represent, but it could hint at new ventures in the pipeline. Some of Musk's seemingly-random declarations have evolved into projects, like the decision to use flamethrowers and hats as a means of funding The Boring Company's tunnel-digging projects for public transit. Musk claims he got the idea to use merchandising from '80s sci-fi comedy Spaceballs.
It's also possible Musk was blowing off steam before the call. Although initially cheerful as he ran through an earnings report that beat analysts' expectations, Musk grew tired of questions around half an hour into the call, dismissing a question from Bernstein analyst Toni Sacconaghi about capital requirements as "boring," "boneheaded" and "not cool." He then interrupted RBC analyst Joseph Spak's question, complaining about how the questions are "so dry," before switching to one from a YouTuber instead.
Tesla's second quarter earnings call is likely to take place around August time, at which point it should be clearer whether Musk can deliver on full autonomy before the end of the year and whether Tesla can ramp up production of the Model 3.
Perhaps Musk will release more woke frisbees before then.