Elon Musk Declares"I'm Building a Cyborg Dragon": Here's What It Means
This has to be Space-X related.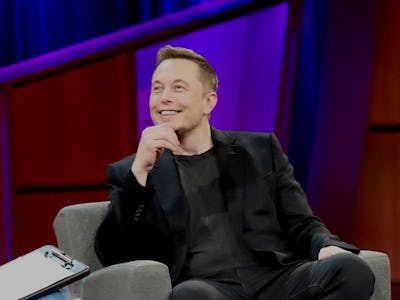 Flickr / jurvetson
Elon Musk might simultaneously run the same number of companies some people might work for during their lifetime, but among all of the stress, he still finds time to wild out on Twitter. On Wednesday, the tech mogul made the internet raise its collective eyebrow with one of his oddest tweets to date: "Oh btw I'm building a cyborg dragon." There's only one thing named Dragon in all of Musk's companies and it goes back and forth to the International Space Station.
It seems likely that SpaceX's Dragon capsule is about to become powered by artificial intelligence — and it might offer a human-brain interface via Neuralink. If a Dragon crew capsule — one in which astronauts would fly (right now there are only cargo capsules) — were developed to incorporate a neural lace component, Musk might just bring astronauts with internet-powered super-intelligence to space. (Yes, this seems far-fetched, but not impossible.)
On Reddit, theories are flying: Two identical screenshots of the tweet were posted to /r/elonmusk minutes after it was published, one of which was titled "This is why I love Elon." Redditor inform880 replied, "about f*ing time," as if an android dragon has always been somewhere down the SpaceX pipeline.
But as anyone on Twitter can tell you, every time you try to be witty there's always someone to clap back for some internet clout. A few people took digs at him for pivoting to cyborg dragons instead of focusing on production for the Tesla Model 3. "Pretty irresponsible use of time, considering the financial trouble Tesla seems to be in," wrote Tyler Grann.
Musk has usually been pretty timely about letting his followers know if he's serious or just messing with them. The Boring Company was founded on the same day he initially tweeted about it. He also put his now-infamous flamethrower on sale a month after he teased it. If this tweet is even lightly saying something serious, expect to get an explanation in as soon as a day to as late as a month from now.
Musk is no stranger to the cryptic tweet. The CEO has shown signs of existential dread, teased the name of his imagined "intergalactic media empire," and just goofed on his followers. But don't be fooled, not all of Musk's tweets are gags. In fact, after airing out his gripe with the traffic in Los Angeles he decided to start The Boring Company. There might just be a kernel of truth — no matter how weird it seems — hidden somewhere in this meme-able tweet.