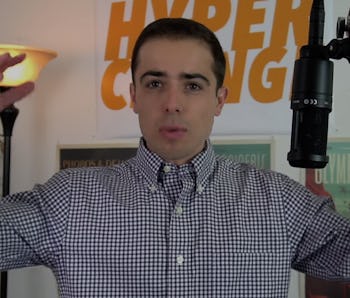 Innovation
Elon Musk Invited a YouTuber to Tesla's Earnings Call: Here's How It Went
YouTube
Elon Musk made one fan incredibly happy in Wednesday's first-quarter earnings call. During a conversation with analysts that left an irritated Musk dismissing questions as "so dry," he unexpectedly switched gears to make good on his promise to answer one crowdsourced question from a YouTube channel focused on retail investors rather than sell-side analysts. Galileo Russell, the chosen representative of the community, could not believe his luck.
"I'm still basically in complete shock right now, little rattled, still shook, just processing this entire situation," Russell, a writer at SeekingAlpha and CEO of Hyper Change TV, said in a post-call YouTube video. "I am just so thankful for everybody who reached out with ideas for questions, vouching for HyperChange. Thank you so much."
Russell chose his moment to ask the following:
Hey, great quarter, thanks for having me on the call to represent retail investors. I was wondering with Waymo's plan to launch an autonomous taxi service in limited markets this year, if you could give us an update on the Tesla network and any details surrounding the launch date or geographic rollout.
Thanking Russell for an "interesting" question, Musk explained his vision for a "robo-Uber" network that will allow anyone to share their vehicle as part of an autonomous network. He didn't have a firm date, but it depends on a combination of issues: delivering full autonomy for all Teslas manufactured after October 2016 as promised, fulfilling the $3,000 pre-orders and $5,000 post-release orders, and meeting regulatory requirements around a taxi service. Musk previously suggested at South by Southwest in March that full autonomy could roll out by the end of this year.
The question was a big moment for retail investors. Around 150 shareholders representing $18 million in shares (63,000 shares) asked Musk over a four-day period to take a question from Russell.
"Many times, analysts on the calls are asking short-term questions related to formulating their 12-month price targets," Rob Maurer, the producer of the Tesla Daily podcast and one of the shareholders involved in the campaign, told Inverse on Tuesday. "A different perspective with questions that are more relevant to retail investors, many of which have investment time horizons of a decade or more, can only be beneficial. It's a great example of a forward-thinking company responding to its stakeholders, as well as an interesting demonstration of what new media, social platforms, and crowdsourcing can accomplish."
The call should have been a positive moment for the company. In its earnings report, the company beat expectations with adjusted losses of $3.35 per share where FactSet analysis suggested a rate of $3.54. The company also continued to ramp up Tesla Model 3 production by reaching a rate of 2,270 per week in April, before a scheduled shutdown to upgrade machines.
Musk also fielded questions from analysts about the finer points of the company's earnings report. Around 35 minutes into the call, though, he dismissed a question from Bernstein analyst Toni Sacconaghi about capital requirements as "boring," "boneheaded" and "not cool." He then interrupted RBC analyst Joseph Spak and decided to take Russell's question.
"These questions are so dry, they're killing me," Musk said.
Musk thanked Russell on his Twitter page after the call:
Not everyone was impressed by the sudden transition. Tom Randall, a reporter at Bloomberg, drew a link between the interruption and a drop in after-hours trading share price of 4.7 percent representing $2.4 billion in value.
"For the record, I think it was a cool idea to bring in Qs from retail investors (and one media question)," Randall wrote in a follow-up on Twitter. "These all represent Tesla's stakeholders. But as a "cool" transition to YouTube, Musk smacked down boring-but-core Wall Street concerns, and those investors didn't like it"