Elon Musk Predicts Tesla's Self-Driving Cars Could Become "Robo-Uber"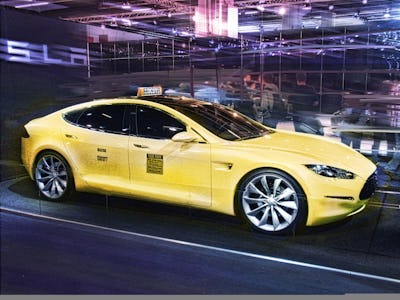 Flickr / Otmezger
There has been little info from Tesla regarding the Tesla Network, the company's ridesharing program. In the company's latest earnings call, Elon Musk gave an update to the program, explained how it would work, and also what is the biggest obstacle the company will face when trying to get the program started.
During Wednesday's earnings call, the Tesla CEO fielded a call from Galileo Russell of the HyperChange TV YouTube channel regarding a launch date of the Tesla Network. Musk didn't have a date, but said the program will act as a "shared electro autonomy model." The owner of the vehicle can share the vehicle at their accord, which Musk called a "Robo-Uber."
"You can say it's available to anyone to use it whenever you're not using it," he said. "You can recall it at will. You can limit its use to friends and family."
To allow Tesla vehicles to become fully autonomous and to work on the Tesla Network, Musk explained the cars' computer would need an upgrade in order to improve its processing power for the system's neural network. He added that the upgrade was a plugin replacement that was easy to do.
As for when the Tesla Network will launch, that was another matter altogether. Musk explained that the biggest hurdle for the company would not be the computer upgrades, but rather regulations. He said that when there's an accident involving an autonomous vehicle, people get upset and that in turn makes regulators responds to public pressure although he insisted autonomous cars save lives.
In April, leaked images of the self-driving mode for Tesla cars showed up on Twitter. The company expects to sell the feature at a cost of $3,000 for those who purchase it prior to launch and $5,000 after. At a panel at South by Southwest in March, he suggested the self-driving would be available by the end of 2018.