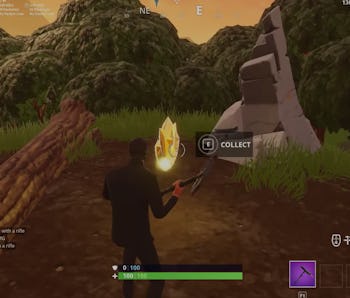 Gaming
'Fortnite' Week 10 Challenges: Where to Search Between a Stone Circle
What's so special about this spot?
YouTube
The Week 10 challenges for Fortnite Battle Royale are out. The lists of tasks complete consist of the usual find a certain number of treasure chests or do so much damage, but one quest is a little mysterious.
One of the Fortnite Week 10 challenges released on Thursday requires players to search a certain spot. More specifically it says, "Search between a Stone Circle, Wooden Bridge, and a Red RV." That's it. For those in need of a little help, the Fortnite Records YouTube channel provides an easy-to-follow video to find the right spot.
The spot is just east and little south of Tomato Town near the Wailing Woods. Players should keep a lookout for a log and a stone structure when searching for the spot. When they get to the location, their reward will be 10 Battle Stars.
There's nothing particularly special about the location, but Thursday was an active day for Fortnite Battle Royale players. For most of April, Epic Games hid several hints in the game of an upcoming event involving a comet. Players who logged in Thursday could see that meteors were now falling from the sky. With only a few days left in Fortnite Season 3, Epic appears to have something lined up to end the season.
Weekly challenges are available to Fortnite Battle Royale players if they purchase the current season Battle Pass, which costs 950 V-Bucks or $10. Acquiring Battle Points from the challenges helps raise a player's tier level and unlocks more content.
Epic Games made a killing in the past two months from Fortnite. Recent numbers from data analytics group SuperData shows the game earned $223 million across all platforms in March. The mobile version of Fortnite dominated iOS charts by taking in more than $25 million in its first 30 days.