'Stranger Things' Season 2 Score Will Be on Cassette Tape, Because the '80s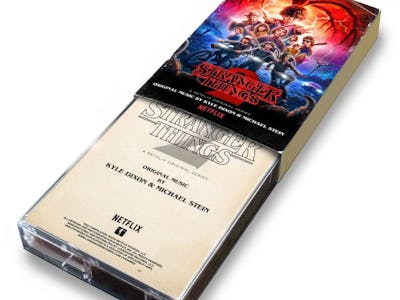 Lakeshore Records
Short of stepping into a time machine and raiding a Tower Records, analog enthusiasts and collectors are about to get another sweet dose of nostalgia in a very unique soundtrack release for Season 2 of Netflix's Stranger Things.
On June 15, Lakeshore Records will release a repress of Stranger Things Season One (Volumes 1 & 2) on vinyl, in the same "Upside Down Inter-dimensional Blue" variant the Season 2 soundtrack came in, as well as a cassette of the Stranger Things Season 2 score stylized after a paperback novel. The vinyls will retail for $29.99 each, while the Season 2 cassette will be available for purchase online for $14.98.
If a cassette release of Stranger Things music sounds familiar, that's because the Season 1 score was also released as a cassette last year as an Urban Outfitters exclusive. It became the the fourth best-selling cassette of 2017. (In case you're curious, the number one cassette of 2017 was another soundtrack, for Marvel's Guardians of the Galaxy, Vol. 2.)
For those wanting to actually listen to the music of Stranger Things on cassette, there's no shortage of inexpensive portable cassette players. Here's one from Jensen, available for $12.99 on Amazon Prime.
Nothing more needs to be said about the revival of vinyl — it's here to stay. But the cassettes revival is more recent, boosted by franchises like Stranger Things which are thematically rooted in the period. It also helps cassettes are much cheaper than vinyl, with new releases ranging between $12 to $14 a pop on average. So it's a lot easier to start a collection in 2018, even if all the music is available to stream in that futuristic pocket device you call a "phone."
The Stranger Things Season 2 vinyls and cassettes will be released on June 15.