The Set of 'Legends of Tomorrow' Is a Time Machine
"I've been to 1864, 1874, 1927, 1967, 1942, all over."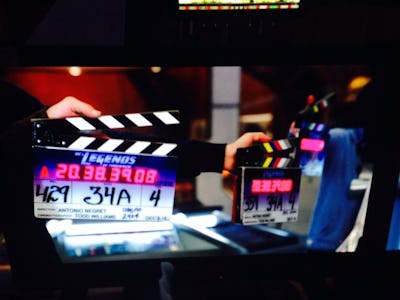 Todd Mahlon
The DC television universe expanded last year when Legends of Tomorrow premiered on The CW. A crossover series featuring characters from Arrow and The Flash, a band of zeroes become heroes as they travel through time to right wrongs — dubbed "aberrations" — in history. Production of the series is a well-oiled machine for its size, and there's little room to mess around. But cinematographer Mahlon Todd Williams is still awe-struck when he's on set because, on any given day, Williams finds himself feeling like he's stepped into another time and place.
"I've been to 1864, 1874, 1927, 1967, 1942, all over," Williams jokes to Inverse. Williams, who worked on Painkiller Jane and See No Evil 2, was eager to accept the job when he learned the show was about time travel. "The door was open for every camera technique. As soon as they get off of that [ship], it's a free-for-all based on the script."
When unabashed film nerds like Williams work in an equally nerdy genre show, homages to classic period movies are inevitable, especially when the show travels to the past to visit eras like the American Revolution or the '80s Cold War. This season, an episode called "Raiders of the Lost Art" set in '60s Los Angeles featuring a fictionalized version of a young George Lucas and spoofed the trash compactor from Star Wars. The entire plot of "The Magnificent Eight" mimicked The Magnificent Seven, and in "Leviathan," Ray Palmer (Brandon Routh) grows to a giant to fight a huge monster, not unlike Godzilla or Ultraman.
For each and every episode, Williams consults his 400-plus DVD collection, so that he can figure out how to best mimic the influences.
"Before you get a script on our show, you get a story breakdown," Williams explains. "You'll know what time period we're going to, the outline of the action, or beats characters are going through. At that point I track down a specific movie." For scenes set at NASA (in the upcoming episode "Moonshot") Williams dug up Apollo 13 and Transformers. For episodes in the Old West, it was The Good, The Bad, and the Ugly and Silverado. Only sometimes does Williams look at the comics, which he uses to reference framing.
"We aren't tied into duplicating what somebody else has done," says Williams. But to pull off specific visual maneuvers, that requires study. And often, it's not the whole movie but just little bits. "Like Butch Cassidy and the Sundance Kid, they used a lot of flares, and we looked how they used it. Sometimes it was just for a shot or a transition between scenes."
"That's the main things about using these techniques," adds Williams. "They're great as long as it works within the story and doesn't pull you out. When you're watching, you're in that world, whether it's 1927 or 1964. We've transported you to this world, and our job is to keep you in that and invested in the characters doing whatever they're doing."
The one constant in Legends of Tomorrow is the Waverider, Rip Hunter's (Arthur Darvill) ship capable of traversing the timestream. The Waverider is a constant setting no matter where — or when — the show takes place, which means it's also a dumping ground for exposition scenes where the characters sit around talking. These scenes are necessary for the plot, but they can get boring if the filmmakers aren't careful. Besides actor chemistry and blocking, Williams says that constant movement is key.
"It's all about the next character talking," says Williams. "We try not to get anybody standing and being too static." The solution is to make the characters move around as much as possible, but "it's not a movement for movement's sake, but a movement to help tell the story." And it becomes clear: "Once they're finished [talking], they can leave."
It helps that the Waverider was built for movement and dynamic framing, too. "That place has been built so big you can dolly around the floor. It was designed that way, so we could keep moving if we needed to."
Williams has several favorite shots from the shows first two seasons. The Season 2 winter finale, "The Chicago Way" — set in Prohibition-era Chicago — was especially fun to make. "It's the intro to Al Capone and his gang. We were out on a dock, and we tilt up off of the reflection in the water, and we see the five guys walking towards us in silhouettes. That was probably one of my favorite shots."
Williams recalls walking the set during filming of "The Chicago Way" where "everywhere you looked" were antique cars from the '20s and '30s and "somebody in period costumes and smoke [rising] from the sewer."
"Even as a crewmember, it felt like we time-traveled," he said. "Every two weeks, I'm in another part of the world or another time period."
Legends of Tomorrow airs Tuesdays on The CW.