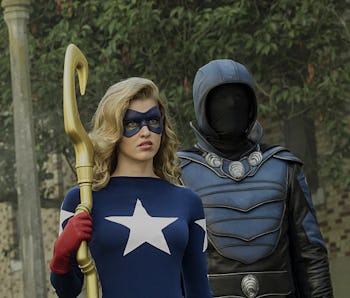 Entertainment
'Legends of Tomorrow' Confirms Why No One Knew About the JSA
The CW
For a team as prestigious as the Justice Society of America, who have played a key role in this season of DC's Legends of Tomorrow, it's odd why they have never been mentioned in before, ever, in Arrow and The Flash. Although Obsidian, Vixen, and Stargirl have superpowers, the Flash is considered as one of the first meta-humans in the Arrowverse. But why? This week, Legends of Tomorrow gave an answer.
In this week's episode, "Compromised," the team travels to 1987, the halcyon days of shoulder pads and Star Trek: The Next Generation. Nate Heywood (Nick Zano) and Amaya (Maisie Richardson-Sellers) try to consult the Washington D.C. branch of the JSA for their mission — a pursuit to stop Damien Darhk (Neal McDonough) from intervening in the INF treaty between U.S. and Russia — only to find the JSA disbanded.
When Amaya asks Nick why he doesn't know what happened to the JSA, it's because no one does. "Every memo, every executive action relating to the JSA was top secret," he tells her, saying he only pieced together information from witness testimonies, government leaks, and his own bedtime stories from his dad. (Recall that his grandfather was JSA member Commander Steel, played by Matthew MacCaull.)
Later, Amaya and Nate meet Obsidian, now older and played by Lance Henriksen. When she asks him what happened to the JSA, he gives her a crash course on the Cold War. "After the war, our friendship with the Soviet Union ended, and we continued fighting as what we know as the 'Iron Curtian' descended over central and eastern Europe." Nate asks if that includes his grandfather, and Obsidian answers with remorse: "Right to the end." Since it's Henriksen, whose performance qualifies him a permanent place in the Arrowverse, there's a weight to the scene only the veteran sci-fi actor can give.
According to Obsidian, in 1956, President Eisenhower sent the team on a mission to Leipzig, but "they never made it back." Why didn't Obsidian join? Because '56 was a "charged time," and the government didn't trust him. At the end of the episode, Obsidian reveals he's gay, and the prejudice of America's yesteryears meant that even superheroes were kept from serving their country based on who they loved.
Besides giving an answer why Oliver Queen, Barry Allen, S.T.A.R. Labs, and the rest of the Arrowverse don't know about their superhero predecessors, Legends of Tomorrow continues to shine as it tells human stories in a superhuman universe. After Jax's brush with slavery last week, the story of a superhero denied from being a hero has gravity, incidental to the week this episode has aired. Damien Darhk's wink at fascism earlier in the episode — "Which, in my opinion, is getting a bit of a bad rap lately" — only makes clear who the villains really are.