The Justice Society of America is Badass Model UN
Dr. Mid-Nite who? Star-what? These are the JSA heroes coming to 'Legends of Tomorrow' this fall.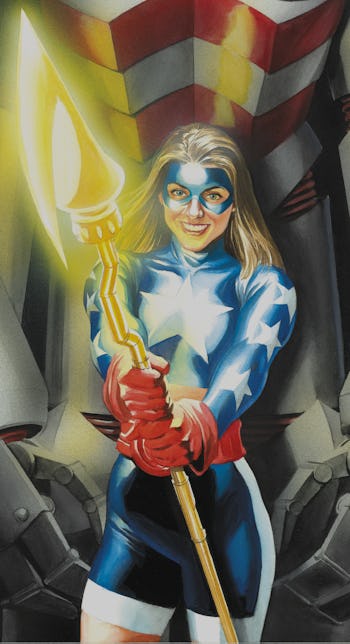 DC Comics
Before Batman and Superman of DC formed the Justice League, there was the Justice Society of America. Created by Gardner Fox and Sheldon Mayer, who famously rescued Jerry Siegel and Joe Shuster's Superman from the rejection pile, the JSA assembled in All Star Comics #3 in 1940 as one of the first-ever superhero teams in comics. Hour-Man, Doctor Fate, Spectre, Green Lantern (Alan Scott), Sandman, Atom (Al Pratt), The Flash (Jay Garrick), and Hawkman made up the first incarnation of the JSA, but, naturally, in 2016, the Society is going to look a little different.
Announced at San Diego Comic-Con, the new members of the JSA — Vixen, Citizen Steel, Obsidian, Stargirl, and Dr. Mid-Nite — will have a major presence in Season 2 of DC's Legends of Tomorrow, itself a team-up series using supporting characters from Arrow and The Flash like White Canary, Firestorm, and Rip Hunter. Needless to say, next season of Legends of Tomorrow is going to be a little crowded.
To help you stay informed when the series returns October 13, here's a quick gander at the JSA as they will appear in Legends of Tomorrow.
Vixen (Mari McCabe)
Arrow fans already know Vixen, the super-heroine who wields the abilities of animals through a powerful totem. Played by Megalyn Echikunwoke in the animated series Vixen and in Arrow Season 4, Mari McCabe possesses the mysterious Tantu Totem, an heirloom inherited from her mother. She becomes a superhero as Vixen after teaming with the Green Arrow and the Flash, and in Arrow provides assistance when the Green Arrow is in need of magic to combat Damien Darhk.
Due to conflicts, Echikunwoke will not be reprising her role in Legends of Tomorrow. Instead, Maisie Richardson-Sellers (the CW's The Originals) will play Mari's grandmother, who took up the Vixen mantle before Mari.
Citizen Steel (Nathan Heywood)
Nathan Heywood is the grandson of Henry Heywood, the first Commander Steel, and cousin to Nathan Heywood III, the second Steel in the family. Created by Geoff Johns in 2007, Nathan is an Ohio State football star until his leg is amputated after a devastating injury, leaving him addicted to painkillers. When Nazi villain Baron Blitzkrieg attempts to wipe out the Heywood bloodline, the villain Reichsmark's liquid metal blood comes into contact with Nathan, his body absorbing the material.
With the help of Dr. Mid-Nite and Mr. Terrific, Nathan is able to control his strength and joins up a revived Justice Society to honor his family's legacy. After defeating Blitzkrieg, the press asks if Nathan is the new Commander Steel. Claiming he's just an ordinary citizen, Power Girl christens him Citizen Steel. He will be played by Nick Zano in Legends of Tomorrow.
Obsidian (Todd James Rice)
Debuting in 1983 from Roy Thomas, Todd James Rice is the son of Alan Scott, the Green Lantern of the Golden Age. Growing up in an abusive adopted home, he meets his twin sister Jade as a teenager when they discover they both have superpowers. While Jade's powers are similar to her father's, Todd is able to manipulate shadows, blending his body with it or enveloping enemies with their own. His powers originate from his father's battle for shadow energy from the super-villain Ian Karkull.
Working as a part of the JSA, notably as the headquarter's security guard, Todd briefly retires and soon comes out as gay. While dating the district attorney Damon Matthews, Todd's powers become dormant until the death of his sister reawakens them, forcing him to pick up the mantle once again.
Stargirl (Courtney Whitmore)
Courtney Whitmore first appeared in Stars and S.T.R.I.P.E. #0 in 1999 as the second Star-Spangled Kid until she changes her name to Stargirl. Created Geoff Johns modeled the heroine's personality after his late sister's.
A trained gymnast and kickboxer, she is the step-daughter of Pat Dugan, sidekick to the first Star-Spangled Kid whose equipment she discovers in a garage. When Courtney begins fighting crime, Pat builds a giant robotic suit (named S.T.R.I.P.E.) which he uses to provide her with assistance, once again assuming sidekick duties. Eventually, Courtney joins the JSA, and after being gifted Jack Knight's cosmic staff — which among other things, gives her the ability to fly — she changes her identity to Stargirl.
Doctor Mid-Nite (???)
With three different Doctor Mid-Nites in existence, we're going to guess on the most likely to visit Legends of Tomorrow: Pieter Cross, the third Doctor Mid-Nite and second of the Mid-Nites to join the JSA. But don't yell at us if elements of Charles McNider (who is blind, predating Marvel's Daredevil) and Beth Chapel, a medical doctor from South Carolina, are borrowed for Legends of Tomorrow.
The son of a renowned Norwegian scientist, Pieter was delivered by the original Doctor Mid-Nite, Charles McNider. Inspired, Pieter grows up to run a free clinic in Washington when a new drug called A39 hits the streets. Tracing its origins to Praeda Industries, Pieter is drugged and is involved in an accident. Waking up from the accident, Pieter discovers he can only see in the darkness via infrared vision, and becomes Doctor Mid-Nite to fight crime.
A doctor first and superhero second, Pieter's Doctor Mid-Nite possesses health scans in his cowl while carrying high-tech medical equipment in addition to weapons. He's also a vegetarian and a yogi, and basically acts as the JSA's doctor.
DC's Legends of Tomorrow returns on October 13.