The 'Stranger Things' Kid Has a Band, First Single Is Actually Really Good
Listen to "City Boy" now.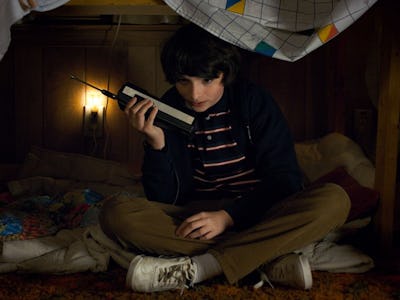 Netflix
While other child actors from Stranger Things were starring in commercials that seemed to air at least once an ad break, Finn Wolfhard was rocking out. The 15-year-old actor, best known for playing Mike on Netflix's retro-horror smash and Richie Tozier in the It movie, is in a band called Calpurnia. The group, which only got a record deal a couple months ago, dropped its first single on Wednesday, and "City Boy" is pretty good, actually.
The label that picked up Calpurnia, Royal Mountain Records, is also home to Alvvays and Mac DeMarco, so it's not too surprising that you can hear similar kicked-back indie pop riffs in "City Boy." Wolfhard sounds nice, but guitarist Ayla Tesler-Mabe might be the real standout, and the song really starts to move in the uptempo finale.
"'City Boy' sounds like the drunk lazy summer I wish we were having right now," Inverse's extremely chill science editor Yasmin Tayag noted while listening to the song, which is about as ringing an endorsement as you can get while waiting for a blizzard to descend on New York City.
There's no word of a full Calpurnia album just yet, and Wolfhard is quite busy. The actor has Stranger Things Season 3 on his docket, along with the It sequel and another upcoming horror movie based on the classic novella The Turn of the Screw. Perhaps all these horror roles explain why Calpurnia's music is so sublime and fun by comparison.
Stranger Things Season 3 doesn't have a premiere date yet.