New 'Fortnite' Tomatohead Skin Is Bold, Funny, and Unlike Past Skins
Make the competition go splat.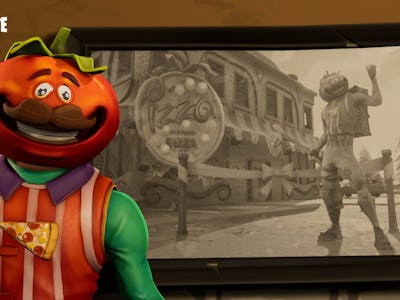 Twitter
A new Fortnite skin has players seeing red. Not out of anger, but because the latest skin is designed after the Uncle Pete's Pizza Pit mascot in Tomato Town. Regardless of how strange it looks, some players simply have to buy it.
Tomatohead is the latest outfit available for purchase in Fortnite Battle Royale. Available on Saturday in the game's store for 1,500 V-Bucks, or approximately $15, the suit is definitely different from the norm. Unlike previous skins, Tomatohead is less about trying to look cool like with the Raven and Dark Vanguard skin, and more about looking ridiculous because it's a big tomato for a head.
Luckily for Fortnite players who want to give their avatar a unique look, the Tomatohead skin does not increase the hitbox for the head, meaning it will not be easier to get a headshot on another competitor wearing the outfit. On the other hand, the big tomato will make players wearing it easier to see. Still, it's worth the risk for some gamers in order to stand out from the crowd.
Skins like Tomatohead are the driving force behind the financial success of Fortnite. Players have spent big money for in-game currency, called V-Bucks, which goes directly into the pockets of developer Epic Games. In February, the company took in $126 million, and the mobile version of Fortnite made $25 million in its first 30 days.
The Tomatohead outfit is available for a limited time at the Fortnite in-game store. Once it's gone, there's no telling when Epic Games will bring it back. To complete the outfit, players can purchase the Googly glider and the pizza slicer-shaped Axearoni pickaxe for 800 V-Bucks each.
Fortnite hit multiple technical snags in recent weeks. Issues with the latest update caused problems with the new replay system and an extended shutdown of the game's servers.