'Fortnite' Is Back Online, So Everyone Calm Down
The Battle Bus is once again operational.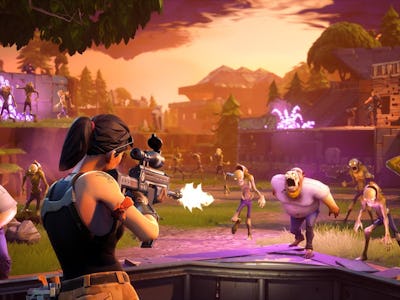 Flickr / BagoGames
The Fortnite: Battle Royale servers are back online as of 3:07 p.m. Eastern, according to Epic Games. Fans of the incredibly popular free-to-play Hunger Games-esque video game can, once again, skydive from the Battle Bus in search of that all-powerful guided missile launcher.
On Wednesday night, the game's servers went offline for "emergency maintenance" following the latest 3.5 patch. This outage sparked a massive outcry online from Fortnite's millions of players, and even one of the internet's most popular porn sites chimed in. But the balance has at long last been restored.
A few hours before all servers came back online, the game's development team tweeted that PlayStation 4 users would be some of the last players to regain access to the game due to "issues with [the] account system." Despite the mass influx of players that likely jumped into the game following its maintenance, there have been no reports on social media about long wait times or crashes.
However, this hiccup did slow down the release of Battle Royale's new limited-time mode, 50v50 v2.
In a Reddit post, an Epic Games employee stated that the launch of the new game mode will be postponed to next week because of "account service issues" and in order to let users get their Fortnite fill for the weekend.
Unsurprisingly, 50v50 v2 will pit two teams of 50 players against each other. The massive squads will have ten minutes to loot the island as the storm closes in, five minutes to battle, and another five minutes until the storm shrinks to the end.