April 20 Walkout: 5 Young Gun Reform Activists You Need to Follow Online
How to keep up with the movement.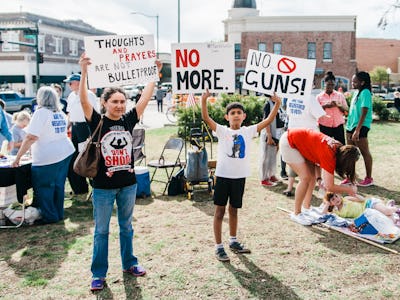 Unsplash / Heather Mount
On April 20, students across the nation will participate in a walkout to advocate for gun reform. The demonstration is being spearheaded by a group of young activists intent on capitalizing on media attention since the Parkland, Florida shooting, in the hopes of stirring meaningful political action.
Many of the student activists thrust currently into the national spotlight are students from the site of the shooting, Marjory Stoneman Douglas High School. But a larger coalition, including young people who have been touched by gun violence in other ways, has come together over the past two months to create a loud public debate about America's gun violence epidemic. Through their impressive use of Twitter and public appearances, these five are worth following for news on the movement:
David Hogg
David Hogg is a Marjory Stoneman Douglas student who quickly emerged in the media as a voice for gun reform after the Parkland shooting. Over the past two months, Hogg has been pushing for targeted corporate boycotts, encouraging people to boycott companies and stock funds that invest in gun manufacturing. Hogg has also become a favorite scapegoat of far-right conspiracy theorists, who claimed that he was a "crisis actor" and not really a high school student.
Kenidra Woods
Despite being only 17 years old, Kenidra Woods of St. Louis is a longtime mental health activist with a sizeable Twitter following who has joined the gun reform push galvanized by the Parkland shooting. Woods says that gun violence has been a constant threat throughout her life and she is fighting to ensure that all kids can live without that fear.
Emma González
Emma González is a student at Marjory Stoneman Douglas who is one of the key leaders of the #NeverAgain movement. Gonzalez has been an important media figure in the fight for gun reform; she appeared at CNN's Town Hall on gun reform, runs press conferences, and gave a powerful speech at the March For Our Lives rally.
Clifton Kinnie
Clifton Kinnie is a student at Howard University who began his activist work following the 2014 shooting of Michael Brown in Ferguson, Missouri. Four years ago, Kinnie helped register young voters in Ferguson and even organized a smaller walkout at the time. Despite a lack of media attention relative to the Parkland survivors, Kinnie says the Ferguson community has been working for gun reform for a long time.
1. Sarah Chadwick
Sarah Chadwick was one of the main organizers and a speaker at the March For Our Lives that took place in March, and remains one of the leading voices from Parkland pushing for stronger firearms legislation.
The national walkout begins on Friday, April 20 at 10:00 a.m. local time.