"March for Our Lives" Scheduled for March 24: What to Know
"We are going to be marching together as students, begging for our lives."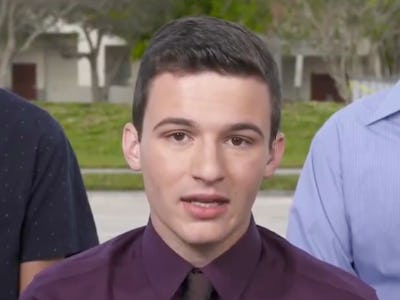 This Week ABC's Twitter account
In addition to national school walk-outs scheduled for March 14 and April 20, a march on Washington, D.C. of students angry over the constant barrage of school shootings has been scheduled for March 24.
On Sunday, five students who attend Marjory Stoneman Douglas High School in Parkland, Florida, where a former student killed 17 people on February 14, went on the weekend's politcal talk shows on ABC, CNN, and Fox News to announce the march.
People are saying that it's not time to talk about gun control and we can respect that. Here's a time: March 24, in every single city, we are going to be marching together as students, begging for our lives," said Cameron Kasky, a student at the high school.
On Saturday, student Emma Gonzalez's powerful, emotional speech connected with and galvanized people at an anti-gun rally.
"This isn't just a mental health issue, he wouldn't have harmed that many students with a knife!" Gonzalez said, after reading aloud an objectively tone-deaf tweet from President Donald Trump.
March For Our Lives in Washington, D.C.
In Washington, D.C. on March 24, students and family members of victims or survivors school shootings, as well as their supporters, will march.
"We cannot allow one more child to be shot at school. We cannot allow one more teacher to make a choice to jump in front of a firing assault rifle to save the lives of students," reads the group's mission statement.
Go Deeper:
National School Walkouts on April 20 and April 14: What to Know
After Florida Shooting, GoFundMe Scams Sprout Up
Inside the School Shooting Industrial Complex
What We Know About the Alleged Florida School Shooter
Alleged Florida Shooter's Chilling YouTube Remark Got FBI's Attention
The AR-15 Used in Orlando Shooting Is "America's Most Popular Rifle"
Are Automatic Weapons Legal or Illegal in U.S.? It's Complicated
If We Can't Prevent School Shootings, at Least We're Improving Police Response Time
Ruvna Smartphone App Wants to Protect Schools in Shootings
How Sandy Hook Changed My Relationship With My Son, and With His Teachers