April 20 School Gun Violence Day of Action: What to Know
The date marks the anniversary of the Columbine massacre.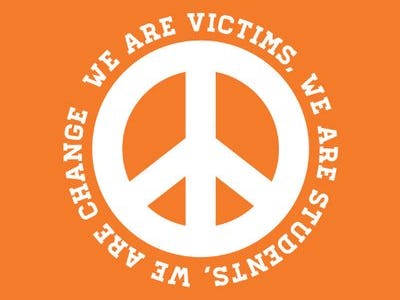 Students across the United States are standing up against gun violence. On April 20 this year, the 19th anniversary of the Columbine High School massacre, community leaders plan to continue the momentum from previous days of action to call on Congress to end violence and introduce legislation aimed at protecting young people. Two key movements have sprung up around the date: one advocating for a walkout, and another for an in-school day of action.
The ongoing movement was sparked by the Parkland, Florida shooting that took place on February 14, during which 17 died and a further 17 were injured by 19-year-old gunman Nikolas Cruz. Around 20 survivors set up "Never Again MSD," "MSD" the abbreviation for Marjory Stoneman Douglas High School. Its members have become prominent voices in the media calling for gun law reform, and five of its highest-profile members including David Hogg appeared on the cover of Time Magazine.
The April 20 day of action marks the anniversary of the Columbine High School shooting in Colorado in 1999, when Eric Harris and Dylan Klebold killed 12 students and one teacher. The incident sparked a national conversation about student gun violence and causes. Michael Moore explored the issue in 2002 film Bowling for Columbine, which has made numerous "best documentary film" lists. The issue is far from resolved nearly 20 years later: The Network for Public Education advocacy group claims that since the massacre, over 150,000 students attending K-12 schools have been involved in a shooting on a campus.
What's Happening
This event is not the same as the National School Walkout held on March 14. For that event, organized around the hashtag #Enough, students from nearly 3,000 officially-registered schools walked out of class at 10 a.m. for 17 minutes, each minute representing one victim of the Parkland shooting.
It also differs from the March 24 "March for Our Lives" protest, which saw Never Again MSD team up with numerous advocacy groups to march in Washington, D.C. alongside 831 affiliated events.
There appear to be two distinct movements happening the same day. Columbine High School's current principal, Scott Christ, and the principal at the time of the massacre, Frank DeAngelis, issued a joint statement April 11 calling on people to not walk out of school. Hogg shared the image on his Twitter feed calling on people to respect the movement's wishes:
The Network for Public Education advocacy group suggests a number of ways students can get involved in a National Day of Action. Elementary schools can hold in-class discussions about guns and students' thoughts. Middle and high schools can wear orange and host an on-site walkout to an auditorium to discuss issues further. Others can wear orange in solidarity and write to their representatives in Congress.
Some groups still claim April 20 is a school walkout, though. The "March for Our Lives" website links to NationalSchoolWalkout.net, an activist site set up by four students from Connecticut-based Ridgefield High School. It advocates students walk out of school at 10 a.m. and take 13 seconds of silence for each of the 13 victims, after which an open mic will invite students to voice their thoughts until the end of the school day. The March for Our Lives Twitter page reminded its 391,000 followers about the walkout on Sunday night.
Local schools are marking the day with various events. New Jersey-based Students Demand Action Essex County is holding an event in Brookdale Park from 4 p.m. to 6 p.m. with students handing out information on how to write to Congress and how to continue activism, as well as speeches from student leaders and live music. Students at schools in Pennsylvania are staging various events both before and during school.
How to Follow
The National School Walkout movement plans to post updates for its 130,000 followers on Twitter, while movement founder Lane Murdock will also provide updates for her 5,000 followers. The walkout is using the hashtag #NationalSchoolWalkout to share updates.
The National Day of Action organizers are encouraging people to sign up to receive updates about the day's activities, and check the local area for what community organizers are planning.