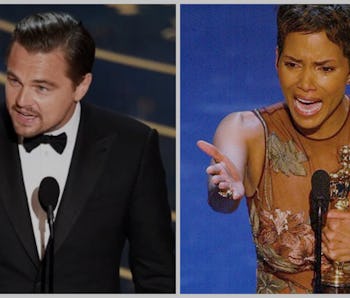 Entertainment
The 7 Most Memorable Political Oscar Speeches
The Oscars are often so boring. But sometimes there's fire.
On February 26, the world will briefly take its eyes off of Washington, D.C. and look west to Hollywood for the 89th annual Academy Awards. And because even a non-betting person would put their money on La La Land to clean up, the night's most intriguing storyline may just be the politics of the night's acceptance speeches.
The election of Donald Trump and the swift enactment of controversial executive orders have caused an almost paralyzing feeling of outrage across the country. Already, Hollywood has spoken out against Trump — Meryl Streep's Golden Globes speech really pissed him off — and given the Oscars' long history of political protest, it's fair to assume there will be a lot of political speeches at this year's ceremony. Here's a look at some of the most memorable — if not impactful — political statements made at the movie industry's biggest annual event.
Marlon Brando Sends Sacheen Littlefeather to Protest (1973)
Instead of showing up to collect his Oscar for Best Actor in The Godfather, Marlon Brando sent Sacheen Littlefeather to appear on the stage instead. Brando was pissed about the way Native Americans were portrayed in film and treated like second-class citizens in America. Littlefeather was president of the National Native American Affirmative Image Committee. The message was simple: The nation still ignored the civil rights of Native Americans.
Vanessa Redgrave Defends Her Unpopular Views (1978)
Usually, actors are playing to a friendly audience when they're making political speeches. But when Vanessa Redgrave won the Oscar for Best Supporting Actress for Julia, her tirade proved pretty unpopular. The Jewish Defense League had encouraged a boycott of the film on the grounds that Redgrave personally supported a Palestinian state. For this, she called them "Zionist hoodlums" for all the world to hear. Being pro-Palestine is a little easier for liberals these days, but when Redgrave favored a two-state solution, people hated her.
Woody Allen Defends New York City, in General (2002)
Speaking of controversial, the love-him-or-boycott-him director Woody Allen only attended the Oscars once, and it wasn't even to accept an award for one of his movies. Instead, in the wake of the terrorist attack on New York City on September 11th, 2001, Allen decided to end his own self-boycott of the Oscars by showing up and encouraging people to continue to make movies in New York City. "For New York City, I'll do anything…it's still a thrilling and very exciting city," he said. It was more softball stand-up comedy than anything, but the fact that Allen never attended before (or after), it was political in and of itself.
Halle Berry Honestly Makes History (2002)
One of the most groundbreaking Oscar wins in history was Halle Berry taking home the statue for Best Actress for her role in Monster's Ball. She was the first African American woman to win that award and did not flinch from that fact in her acceptance speech. "This moment is so much bigger than me," she said. Berry's honesty was a stirring reminder: More people need to be honest when they talk about the important issues. Halle Berry's tears were real, and they weren't self-centered, vain actress tears. She was aware of the symbolism of the moment, and her emotional speech would tempt even the craziest cynic to pay attention.
Michael Moore Shames President Bush (2003)
Michael Moore has long been the most outspoken liberal filmmaker, a status cemented by the speech against the Iraq War he gave at the 2003 Oscars. When he won the Oscar for Best Documentary Feature for Bowling for Columbine, Moore brought up all his fellow nominees on stage to jointly remind everyone of the insipidness of the Bush administration. "We live in fictitious times!…We are against this war Mr. Bush…anytime you've got the Pope and the Dixie Chicks against you, your time is up!" he declared.
Patricia Arquette Hits the Gender Pay-Gap Hard (2015)
This is a big one. Nobody expected Patricia Arquette to bust out a full-on attack against a sexist status-quo, but she fired off a salvo that made a lot of headlines. After winning Best Supporting Actress for Boyhood, Arquette sped through a basic thank you list and then started to make history. "To every woman who gave birth… we have fought for everyone else's equal rights! It's our time to have wage equality once and for all!" It got some blowback — people thought she wasn't inclusive enough — but it was a huge statement that set off years of dialogue about women's second-class citizenship in Hollywood.
Alejandro Iñrritu on Immigration (2016)
After winning the Oscar for Best Director for his film The Revenant, Director Alejandro Iñárritu hit hard against closed immigration policies and rampant racism. Saying the award was "for his father," Iñárritu discussed dreams of a world without dangerous racial inequality. One where "the color of our skin becomes as irrelevant as the length of our hair." No stranger to impassioned speeches, Iñárritu caused controversy at the 2015 Oscars when he openly seemed to criticize the Mexican government by saying that he hoped he and other Mexicans could build "the government that we deserve."
Leo Talks Climate Change (2016)
It took two decades for Leonardo DiCaprio to win an Oscar, but when he finally got his moment on stage, he didn't focus long on the film industry. The actor, who won Best Actor for The Revenant had bigger things on his mind. "Climate change is real," he said. "It is happening right now. It is a most urgent threat." DiCaprio, who spends much of his off-camera time in environmental activism, recommended political action. "We need to support leaders around the world who do not speak for the big polluters or the big corporations, but who speak for all of humanity."
All of these moments were memorable, but given the political climate now, this year's political speeches could make all of the above speeches look tame by comparison.