How to Stream Saturday's March For Our Lives Protest in Washington, D.C.
Everything you need to know.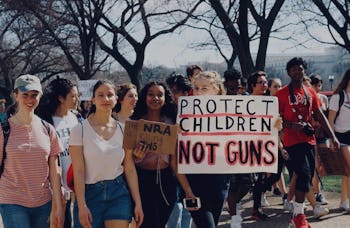 Instagram/March For Our Lives
On March 24, students will take a stand against gun violence. March for Our Lives, a protest taking place in Washington, D.C., with 831 affiliated events worldwide, has been organized by the survivors of the Parkland, Florida school shooting where 17 died on February 14. The action has been supported by advocacy group Everytown for Gun Safety, and follows a March 14 national school walkout that saw over 2,000 schools participate. If you aren't one of the half million people expected to attend Saturday's rally, there are still ways to join in online.
What's Happening
The event has been organized by Never Again MSD, an advocacy group set up by around 20 Parkland survivors. "MSD" is an abbreviation for Marjory Stoneman Douglas High School, where the shootings took place.
Protesters in D.C. will start along Pennsylvania Avenue at noon Eastern time, but the organizers expect some to start sooner. Initial plans were to march on the National Mall, but a National Park Services permit has been granted to a film crew, a decision criticized by advocates. Road closures already started at 7 p.m. on Thursday and are set to remain in place until as late as 10 p.m. on Sunday.
A staggering number of sister protests will take place around the globe:
How to Watch the Event Live
Tumblr is partnering with Everytown to host a livestream of the Washington, D.C., march through both the app and website. It will also offer relevant content about the protest and gun violence in general.
"For those who can't join and aren't able to make those [sibling] marches, we're giving them some of the tools … to be able to express themselves as part of a digital march on Tumblr," Victoria McCullough, social impact and public policy lead, told Mashable.
Beyond the Tumblr stream, the organizers are using the hashtag #MarchForOurLives to share content on social media.
The Key Players
Five of the most media-prominent faces of the Never Again MSD campaign appeared on the latest cover of Time magazine to represent their cause. They are:
The Eagle Eye editorial team is another key group of students. The school newspaper of Marjory Stoneman Douglas high school wrote a manifesto for The Guardian that outlines why they are marching.
What They Want
The organizers have three key demands of the United States Congress, as outlined in the petition:
A law that bans the sale of assault weapons. The organizers note that seven of the 10 deadliest mass shootings over the past decade involved the use of assault weapons, including the massacre of 17 at Marjory Stoneman Douglas High School. The petition advocates for a restriction for use by only law enforcement and military personnel.
Prohibit the sale of high-capacity magazines, like the ones used at Parkland. States that ban these have half the number of shootings involving three or more victims. The petition states that "limiting the number of bullets a gun can discharge at one time will at least force any shooter to stop and reload, giving children a chance to escape."
Closing loopholes in background check law, an action the petition claims is supported by 97 percent of Americans. A staggering 22 percent of gun sales in the country take place without a check, and the petition advocates for a check on "every gun sale, no exceptions." A similar action in Connecticut for all handgun sales resulted in a 40 percent reduction in gun homicides.
Following the March 24 event, a further demonstration is scheduled for April 20 on the anniversary of the Columbine massacre.