What to Expect From the National School Walkouts Happening Today
March 14 is a day of action.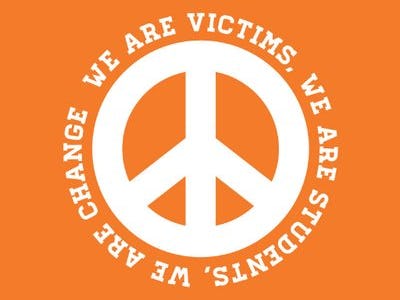 In the wake of the high school shooting in Parkland, Florida that claimed 17 lives in February, American students are taking a stand against gun violence this week by staging a national walk out. As one of many demonstrations planned by young people in response to the government's lack of action on gun control, over 2,000 schools have signed up to participate in the 17-minute walk-out today. The action has drawn widespread attention as participants continue to put the pressure on Congress to take action to stop gun violence.
Organized by teens across the country collaborating with Women's March Youth Empower — the group behind the Women's March on Washington — an official website for the action explains why a walk out needs to happen now:
We are living in an age where young people like us do not feel safe in our schools. This issue is personal for all of us, especially for those of us who are survivors of gun violence. We are walking out for ALL people who have experienced gun violence, including systemic forms of gun violence that disproportionately impact teens in Black and Brown communities.
You Might Also Like: Why Orange Is the Color Students Will Use to Protest Gun Violence
How Did These Walkouts Start?
The 17 minutes, starting from 10 a.m. local time, are to represent every victim of the Marjory Stoneman Douglas High School shooting in Parkland, Florida, on February 14. Nikolas Cruz, a 19-year-old student expelled from the school, was charged with 17 counts of premeditated murder after he opened fire with a semi-automatic AR-15-style rifle on a Wednesday at 2:30 p.m.
The shooting sparked widespread action, with student victims like David Hogg speaking to the media and calling on Congress to take action to resolve a national crisis. While youth coordinator Tabitha St. Bernard Jacobs told ABC News that the event is in response to the massacre, the walk-out is also to protest all school shootings.
The organizers have a list of demands for Congress to take action, supporting the following bills:
Banning Assault Weapons & High Capacity Magazines / S. 2095
Expanding Background Checks to All Gun Sales / S 2009
Passing Gun Violence Restraining Order Law / H.R. 2598 / S. 1212
Stop Militarizing Law Enforcement Act / S.1856 / H.R. 1556
And opposing the following bills:
Conceal Carry Reciprocity HR 38 / S 446
"Any legislation that would aim to fortify our schools with more guns."
Which Schools Are Participating?
At the time of writing, the official websites list 2,853 walkouts planned across the country at grade schools as well as universities. The site notes that this is a list of walkouts posted to the website, and may not necessarily represent a list of officially-sanctioned walkouts. It also may not represent all walkouts planned. Students in other countries like Australia, Ireland and Switzerland have also planned action in solidarity.
What Has Been the Response So Far?
While many schools have allowed its students to participate in the full 17 minutes, some have requested students take part in other activities, like Nevada's Washoe County School District which has instead asked students to tie a ribbon or observe a moment of silence in solidarity. Jefferson County in Colorado has taken a neutral stance, instead "recognizing […] that these will occur and we have an obligation to make sure they are orderly, timely and safe for kids."
Some students could potentially face disciplinary action for disobeying orders to stay in class. However, state school students participating in a walkout are entitled to First Amendment rights to protest. Students may receive a mark for missing school, which could affect those with a number of infractions already, but assuming the protest stays safe it's unlikely the school will take any legal action. The organizers have encouraged students to spend the 17 minutes demonstrating in the best way considering their environment.
A number of colleges like Brown University and Yale have already clarified that participation will not negatively affect applications:
How Can People Follow Along?
The organizers have set up a hashtag to support the events — #Enough — where participants can share their action on social media.
Students that want to support the movement are encouraged to wear orange on the day of the event. Parents and guardians can also stage "solidarity walkouts" from their workplace. Supporters are also encouraged to write to their congressional representative's local office, to pressure Congress into taking its first substantial action to prevent gun violence since 1993.
Beyond the event today, two more days of action are planned in the near future. On March 24, a #MarchForOurLives rally will be held in Washington, D.C. A further nationwide walkout is planned for April 20, an all-day event chosen for the anniversary of the 1999 Columbine School shooting.
This article has been updated.