Why Orange Is the Color Students Will Use to Protest Gun Violence
The story behind the movement's official color.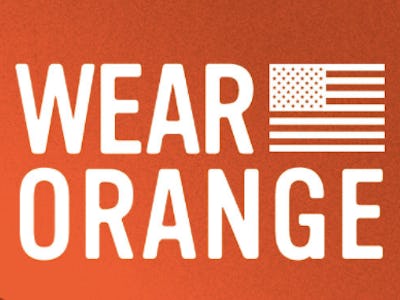 Wear Orange
In the wake of last week's mass shooting at Marjory Stoneman Douglas High School in Parkland, Florida, students affected by the tragedy have become the loudest voices in the fight against gun violence. And in an effort to convince Congress to enact tougher gun legislation, they're calling on their peers to stage several walkouts in the coming months.
So far, on March 14, March 24, and April 20, walkouts have been organized for high school students across the United States. Student organizers are also asking protesters to wear orange, the color that has come to represent the anti-gun violence movement.
Why Orange?
The Wear Orange campaign began in 2015, two years after 15-year-old Hadiya Pendleton was shot and killed in a Chicago park after taking her final exams. Pendleton, a sophomore and drum majorette, had been sheltering from the rain with a group of students when a gunman got out of a car and opened fire. The alleged assailant later claimed that he had mistaken Pendleton's group of friends for members of a rival gang.
Orange was the color that Pendleton's parents and friends chose to wear in her honor following her death. Because of their activism, the color has transformed into a national symbol of solidarity in the movement to stop gun violence.
Each year on June 2 — Pendleton's birthday and National Gun Violence Awareness Day — supporters wear orange to recognize this need for change. The national walkouts have also taken up the color as a unifying symbol of protest.
When and Where Students Will Protest
The first country-wide walkout on March 14 is being organized by the youth wing of the Women's March Network. Using the hashtag #Enough on social media, a 17-minute walkout will occur at 10 a.m. across each time zone. The group has put together a map of walkouts that appears to show participating schools.
Students from Parkland have also organized a day of direct action in Washington D.C. on March 24. Calling it "March for Our Lives," students are encouraging supporters to gather in Washington or to march in their own towns.
"People are saying that it's not time to talk about gun control. And we can respect that," Cameron Kasky, an 11th-grader from Marjory Stoneman Douglas told ABC News's "This Week". "Here's a time. March 24th in every single city. We are going to be marching together as students begging for our lives." You can find more info on the march here.
The third major event, on April 20, is planned as an all-day walkout, and it has been timed to coincide with the 19th anniversary of the Columbine shootings. The walkout is being organized by 15-year-old Connecticut student Lane Murdock.
"I felt like it was our time to take a stand," Murdock told Reuters on Sunday. "We're the ones in these schools, we're the ones who are having shooters come into our classrooms and our spaces."
The walkout has an official Twitter account and a coinciding Change.org petition that is aimed at bringing awareness to the need for tougher gun legislation as well as the direct action planned for April 20. The petition has already garnered 75,000 signatures.