25 Women's March Sign Ideas That Focus on the Future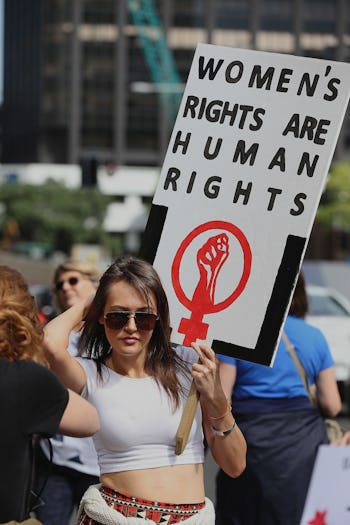 Getty Images / Fiona Goodall
The Women's March on Washington on Saturday after Donald Trump's inauguration is gearing up to be one of the largest protests in American history. And there will be signs. If you're looking for sign ideas that will help get your message to a bigger audience, look to these sign ideas.
The march starts at 1:15 p.m. Eastern in Washington, D.C., at the intersection of Independence Avenue and Third Street SW. People are marching for a wide variety of progressive issues. Women's rights along with racial and gender equality were the focus of the original mission statement, but that has expanded to include the roughly 200 supporting partner organizations, who are also marching for things like gun control, climate change, and worker's rights. There are currently 673 sister marches planned in cities all over the world.
Signs at the marches have to be hand-held and can't have wooden supports (use cardboard tubes instead). Finding the right thing to write on your sign can be anxiety-inducing, especially because the Women's March includes such a variety of issues. The New York City Women's March offers this advice (emphasis ours):
We march to remind ALL government officials they report to the people. We expect policies that promote equality and protect our civil rights. If your sign is featured on social media, or in history books, will they understand why we are marching?
With that in mind, here are 25 ideas to get you started:
25. Cover all the bases.
24. Use a Trump quote in a funny way.
23. Have fun.
22. Take control of the future.
21. Go for a classic.
20. Make a Rebellious reference.
19. Invert a cliche.
18. Paint the future you want to see.
17. Simple and classy is always a good look.
16. Turn what you have into something amazing.
15. Collaborate with all your friends.
14. Look to the next generation.
13. Craft out your anger.
12. Decide what position you'd like to be in.
11. Get nasty.
10. Be internet-savvy.
9. Own who you are.
8. Go for some artsy dark humor.
7. Plan the resistance.
6. Get ready to protect Lady Liberty.
5. It's all in the do.
4. Prepare to rise up.
3. Focus on the climate.
2. Think about the future of the workforce.
1. And when in doubt, Mary Poppins can always help.