David Hogg Is Not a "Crisis Actor" — Here's How the Conspiracy Theory Started
Far-right blogs are at it again.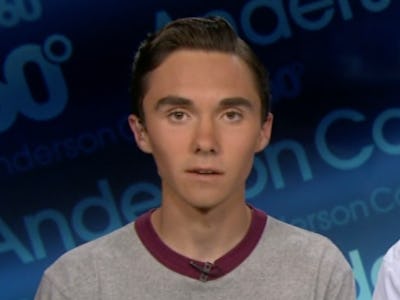 CNN/YouTube
David Hogg, a student at Marjory Stoneman Douglas, who has become a prominent voice in the fight for gun control since last week's mass shooting killed 17 n CNN Tuesday night to address false conspiracy claims that he is a "crisis actor" planted by anti-gun activists. In an interview with Anderson Cooper, Hogg vehemently denied any suggestion that he is anything other than a high school senior. "I'm not an actor in any way, shape, or form," Hogg said.
Following the mass shooting at Marjory Stoneman Douglas High School in Parkland, Florida, on February 14, students who witnessed the tragedy have made it their mission to change gun legislation in the United States. The teenagers have called upon lawmakers to craft and enact responsible gun laws and planned school walkouts and rallies in the coming months.
Their outspoken activism has drawn the ire — and viral conspiracy theories — of some far-right websites. Blogs like The Gateway Pundit and Infowars have disseminated falsehoods about some of the survivors, mostly focusing on David Hogg.
These theories have suggested that Hogg is a crisis actor; a professional who parachutes into the aftermath of a disaster to play the part of a victim and advance a political agenda. They say that Hogg isn't a high school student, only an opportunist.
A similar theory was floated by Alex Jones following the Sandy Hook school shooting in 2012. Jones claimed that the event didn't actually occur and was a "false flag" incident staged by gun control activists for political purposes.
Other conspiracy theorists have accused Hogg of being an FBI pawn. The Gateway Pundit claimed that because Hogg's father is a former FBI agent, Hogg might be part of a deep state cabal to repeal the Second Amendment.
Social media and online video platforms have facilitated the spread of conspiracy theories like this in recent years. Donald Trump Jr. even liked a tweet that suggested Hogg was affiliated with the FBI, and the post has been shared more than 5,800 times at the time of writing.
A CBS2 news segment purporting to show Hogg's past as an actor was the number one trending video on YouTube Wednesday morning. The video, which ran with the caption, "DAVID HOGG THE ACTOR…." has since been removed for violating YouTube's anti-harassment policy. The clip proves nothing other than that Hogg went to the beach one summer and was interviewed by CBS2 about an altercation between a lifeguard and a surfer. However, the caption was likely enough to help it garner the near 200,000 views it received before it was taken down.
During the Anderson Cooper interview, Hogg refuted all of the conspiracy claims about him, and even went so far as to affirm his support of the Second Amendment. Hogg said that he is in full support of gun ownership, so long as guns are only in the hands of mentally stable people who have undergone thorough background checks.
Mostly, Hogg wants to expose the conspiracy theories for what they are: callous, despicable lies. "I was a witness to this. I'm not a crisis actor; I'm somebody that had to witness this and live through this," he said.