Is Superman Stronger Than He-Man? A New DC Crossover Will Reveal All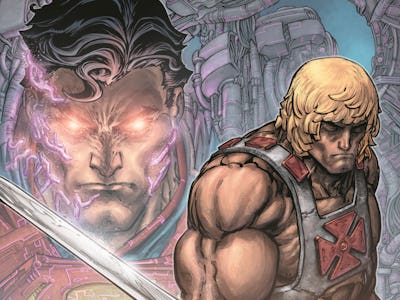 DC Comics
It's a crossover for the ages, as the Last Son of Krypton will trade punches with the Prince of Eternia in an upcoming comic book from DC Comics.
On Monday, DC announced Injustice vs. He-Man and the Masters of the Universe, a six-issue comic crossover hitting shelves on July 18, in which the Superman from DC's Injustice continuity stands toe-to-toe against He-Man, the sword-wielding, loincloth-wearing hero from Mattel's Masters of the Universe toy franchise.
The series will be written by DC veteran Tim Seeley, writer of Grayson, Nightwing, and Green Lanterns, and artist Freddie E. Williams II, who recently illustrated Batman/Teenage Mutant Ninja Turtles.
In the synopsis, DC teases that Batman, still leading his "Insurgency" group against Superman's "Regime," will recruit He-Man in order to stand a chance against Superman, who has assumed dictatorship over the Injustice Universe.
Reads the synopsis:
"Believing He-Man and the Masters of the Universe defeated, a robotic impostor has seized control of Eternia—but not for long! After freeing his kingdom from this strongman's rule, He-Man learns not everyone is pleased to see the pretender deposed—but Adam knows the value of freedom. When heroes from another dimension ask his aid in deposing a superhero turned dictator, he agrees. Teaming up with Batman against the Superman of the Injustice Universe, He-Man and his new allies face dangerous and familiar enemies in a battle where no world is safe!"
Injustice vs. He-Man won't be the first time Superman squared off with Prince Adam. Back in 1982, in issue #47 of DC Comics Presents, Superman stumbled upon He-Man's dimension, where he briefly fought with He-Man before teaming up to take down Skeletor. Years later, in 2013, DC published DC Universe vs. The Masters of the Universe, which had the whole Justice League — and John Constantine — involved in stopping Skeletor's invasion of the DCU.
However, what will make Injustice vs. He-Man different is Superman. Based on the Injustice continuity created for the 2013 video game Injustice: Gods Among Us and the acclaimed 2017 sequel Injustice 2, the alternate universe involves the fall of Superman, who changes from truth, justice, and the American way, to fear, paranoia, and what he believes is the only way. This means that when He-Man returns to the DC Universe, it won't be against a Superman he remembers. That's a good thing. This fight can't end in a handshake.
Injustice vs. He-Man and the Masters of the Universe #1 will be published in print and digital on July 18.