'Batman/Ninja Turtles II' Exclusive Preview Reveals Two Batman Villains
It's not just Bane who brings the hurt to the Turtles. See who else in an exclusive preview.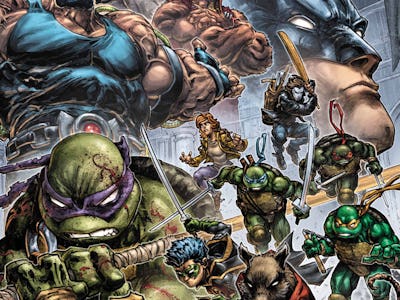 DC Comics
Cowabunga, with a vengeance. Once again, the Teenage Mutant Ninja Turtles meet up with the World's Greatest Detective, Batman, for another round of crossover shenanigans from DC Comics and IDW. This time, however, Bane has been thrown into the mix, along with more allies and villains from Batman's side of the dimensional tracks.
In an Inverse-exclusive preview of Batman/Teenage Mutant Ninja Turtles II #2, hitting shelves Wednesday, two more villains make their surprise appearance.
In Batman/Teenage Mutant Ninja Turtles II, the brainiac of the Ninja Turtles, Donatello, seeks a teacher to help him sharpen his combat skills. There's no one better at being a ninja than Batman, so Donatello re-opens a portal to the DC Universe to pay a visit to Batman in Gotham City. Unfortunately, instead of Batman, it's Bane — still the man who broke Batman's back! — that steps through the portal. Almost immediately, Bane brings the New York underworld to its knees. Now, Donatello is on a race against time to bring Batman to New York while his turtle brothers have their hands full with their newest enemy.
But it's not just Bane that brings hell to the Ninja Turtles. Also from Batman's rogues gallery, Mr. Freeze comes to crush the Turtles ice cold, while Ra's Al Ghul has crucial information Batman seeks.
Much like their subjects, Batman/TMNT II reunites writer James Tynion IV with illustrator Freddie E. Williams II, the tag team pair who first brought Batman together with the Turtles in 2015.
In an email interview with Inverse, Williams says that Batman and the Ninja Turtles, disparate as they are, have always shared a space in Williams's head.
"They occupy the same world in my mind already. I think because I was getting into Batman and the Turtles at around the same time of my life (11 or 12 years old), they already 'feel' like they are in the same world, a dark, gritty, but sometimes funny world," Williams tells Inverse. "It's important to keep in mind the scale of Batman in relationship to the Turtles, but that's about it."
In Batman/TMNT II, Bane comes through as the book's primary villain. Given that this is a crossover with turtles who know ninjutsu and love pizza, there was an emphasis towards the classic image of Bane, originally created by Chuck Dixon, who was like a Mexican wrestler gone awry (because he kind of was). To the rest of pop culture, Bane resembles a masked dictator, as seen in The Dark Knight Rises as played by Tom Hardy.
"Bane being a master strategist, as well as a master fighter, and is incredibly strong, I want his body language to set him apart from the other big tough 'goon-like' characters who are all muscle," says Williams. "I think my Bane is the best of both the Banes: majestic, powerful and deadly."
Batman/Teenage Mutant Ninja Turtles II #1 is available now. Issue #2 will be on sale Wednesday, December 22.