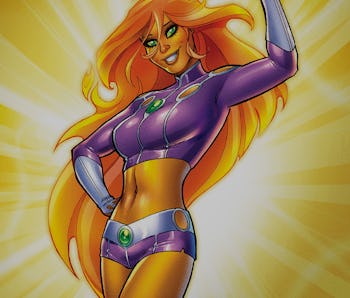 Entertainment
'Teen Titans' TV Show Actress Anna Diop Responds to Starfire Backlash
DC Comics
Fans of the DC Universe got their first glimpse of the teen heroes in the upcoming live-action series Titans, and the response hasn't been very kind. But actress Anna Diop, who plays the teenaged alien superhero Starfire, has a response to the backlash, which are all based on a "misrepresentation" of what the character will actually look like.
On Thursday, Diop shared a photo of herself on Instagram with a long caption explaining the context of the Titans photos. Diop says that the photos, which have the actors in varying stages of make-up and wearing puffy jackets, are not indicative of what the show will actually look like. "Yesterday a photo of me on set leaked online. And it was unfortunate because fans have been waiting MONTHS for a photo of 'Starfire' and a sloppy (😐) photo of me on a curb in 15 degree weather is what they got instead 😂," Diop writes.
In directly addressing the fans, Diop says she "hated that this is the first picture people are seeing. It's out of context and it's a misrepresentation of the incredible character I get to play. And also a misrepresentation of the phenomenal production behind it all."
Diop also addressed the online bigots who used the photos as an opportunity to make racist remarks, presumably prompted by the fact that a black actress had been cast as Starfire. "Too often social media is abused by some who find refuge in the anonymity and detachment it provides: misused as a tool to harass, abuse, and spew hatred at others. This is weak, sad, and a direct reflection of the abuser."
As the very first live-action adaptation of the iconic superhero team as well as the first original production for DC's yet-to-be-named streaming service, there are a lot of expectations for Titans. Led by Dick Grayson, the original Robin and protege of Batman, the Teen Titans are a group of young superheroes who embark on their own adventures. The Teen Titans comics have introduced characters like Deathstroke, played by Joe Manganiello in the DC cinematic franchise, and even had a crossover with Marvel's X-Men in 1982.
There is no confirmed release date for Titans.