'Young Justice' and 'Titans' to Debut on New DC Streaming Service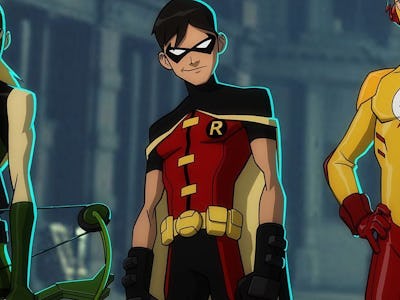 Warner Bros. 
Young Justice, the acclaimed and beloved animated series that followed the surprisingly mature exploits of some of the DC Universe's youngest heroes, is coming back. It is not, however, coming back to TV. Warner Bros. announced on Tuesday that the third season of Young Justice will premiere on a new DC streaming service along with a live-action Titans show.
Deadline reports that the service will debut in 2018. Young Justice, which has been renamed Young Justice: Outsiders for the third season, was initially speculated to be a Netflix exclusive since the series was wildly popular over there. However, the studio opted to use the much-loved series to help launch a new service entirely owned by the company. It's similar to CBS All Access, which will eventually be home to Star Trek: Discovery.
There aren't a ton of details about the live-action Titans series that follows the slightly older exploits of DC's Teen Titans superteam. Greg Berlanti, the man behind all of The CW's wildly popular Arrowverse shows, is helming Titans as well. DC Entertainment President and Chief Creative Officer Geoff Johns will co-write the show, which is fitting since he arguably first made a real name for himself writing the comic series Teen Titans back in the early 2000s. Deadline reports that the show will indeed follow Dick Grayson and other classic Titans like Starfire and Raven.
More details about the two shows, as well as the new DC service, will emerge as 2018 draws near, but for now, one thing is certain: If you want to watch Season 3 of Young Justice, then you better pony up.