'Titans' Hawk and Dove Have the Best Live-Action Costumes to Date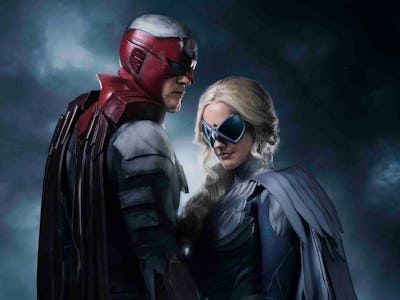 Warner Bros. Pictures
Two avian superheroes from the DC Universe are finally taking flight. On Friday, Warner Bros. released a first look photo of actors Alan Ritchson and Minka Kelly as Hawk and Dove, respectively, from the upcoming live-action television series Titans. And truth be told, Hawk and Dove look truly spectacular, heads and shoulders better than most live-action superhero costumes.
This teaser image of Hawk and Dove — the second reveal from the new show Titans, the first being Brenton Thwaites as Robin several weeks ago — started spreading across social media Friday afternoon. DC Chief Creative Officer Geoff Johns shared the photo on Twitter in a thread started by Deadpool creator Rob Liefeld, who was a former illustrator Hawk and Dove. Titans will air in 2018, on Warner Bros'. yet-to-be-officially-named streaming platform.
Let's be real: Many live-action superhero costumes are pretty ugly. But costume designer Laura Jean Shannon, whose credits include Black Lightning and Iron Man, has really knocked it out of the park, embracing the cheesy comic book look (originally designed by Steve Ditko and Steve Skeates) while incorporating some modern edge.
We're all so used to it by now but, honestly, The Flash's costume is probably the worst superhero costume of all time. So seeing Hawk and Dove look as good as they do is just plain exciting.
Hawk and Dove were created by Ditko and Skeates for Showcase #75 in June 1968. The characters themselves are polar opposites: Hawk, real name Hank Hall, is aggressive and militant, while Dawn Granger, the second person to become Dove, is pacifistic. In both literal and metaphorical ways, the two represent chaos and order. In fact, Hank and Dawn get their superpowers — super strength, speed, flight, all the good stuff — from the Lords of Chaos and Order.
They definitely look the part.
See the image of Hawk and Dove below.
Titans is set to premiere in 2018.